Tunnell Cancer Center Clinical Research Specialist Kelly B. Weaver Earns Oncology Certification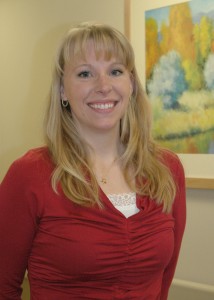 Kelly Weaver, MSN, RN, OCN, Clinical Research Specialist at Beebe Medical Center's Tunnell Cancer Center
Kelly B. Weaver, MSN, RN, OCN, Clinical Research Specialist at Beebe Medical Center's Tunnell Cancer Center, has earned her Oncology Nursing Certification (OCN), validating her knowledge and skills in working with cancer patients. This accomplishment also reflects her focus on offering quality care to the patients at the Tunnell Cancer Center.
Kelly, originally from Baltimore, Maryland, graduated from Towson University's School of Nursing in 2006 with a Bachelor of Science degree in Nursing. While at Towson, she was awarded for academic excellence with membership to Sigma Theta Tau International.
In 2007, she accepted a new graduate nurse position at Beebe Medical Center, and worked for five years on the third floor in the Medical-Surgical Unit. While there, she cared for patients across the lifespan with varied diagnoses and developed an interest in oncology.
Kelly was accepted into the University Of Delaware School Of Nursing's Clinical Nurse Specialist program in September, 2009. Her graduate clinical experience at the Sidney Kimmel Cancer Center at The Johns Hopkins Hospital in Baltimore, Maryland, affirmed her focus on the care of patients with cancer diagnoses and their families.
She accepted a clinical research position at the Tunnell Cancer Center in November 2012 and passed her OCN certification in December. Days later, she completed her graduate coursework and earned the Master of Science degree in Nursing.
To date, 53% of the clinical nurses working at Tunnell Cancer Center have earned the Oncology Nurse Certification.
"We are extremely proud of Kelly and all Tunnell Cancer Center team members who have earned this certification," says Cherrie Rich, Executive Director of Oncology Services for Beebe Medical Center. "It demonstrates their commitment to our patients and to the quality of care that we can provide."
About Tunnell Cancer Center
Beebe Medical Center established Tunnell Cancer Center in 1995. It has received the Commission on Cancer's highest accreditation with commendation as a comprehensive community cancer center. Its clinical specialties are medical oncology/hematology and radiation oncology. It also offers a multidisciplinary approach for planning all cancer treatment. Nearly 300 patients visit the center each day.
Beebe Medical Center
Beebe Medical Center is a not-for-profit community medical center with a charitable mission to encourage healthy living, prevent illness, and restore optimal health with the people residing, working, or visiting in the communities we serve. For more information, please visit us online at www.beebemed.org
---