Beebe Medical Center Honors Fran Needham with the "You Make a Difference" Award
Submitted by
beebemed.org
on
January 18, 2012
Fran Needham, MS, RN, a Director of Nursing at Beebe Medical Center, has been honored with the You Make a Difference Award for December 2011.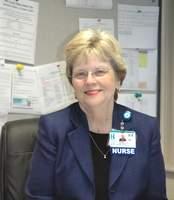 Fran Needham earns Beebe Medical Center's You Make a Difference Award for December
In her role, Needham is responsible for patient care in the areas of Emergency Services, on the hospital's medical-surgical and orthopaedic units, and nurse staffing. She has become known for going above and beyond to provide support and guidance to Beebe's team of nurses, any time of the day or night. It is not unusual for her to respond quickly to calls from the hospital late at night or during the early morning hours.
Nursing staff members have found it easy to talk to her about their frustrations or concerns. Nurses have said that they look to Needham for inspiration, even asking themselves, What would Fran do? when addressing complex issues.
Needham shows her commitment to ensuring the best of care to our patients through her excellent supervision and to the positive reinforcement she gives her staff.
Needham is an outstanding role model and leader at Beebe Medical Center.
Beebe Medical Center's You Make a Difference employee recognition program, which was established in 2002, gives employees the opportunity to recognize their colleagues for outstanding service. The program is similar to an employee of the month program, but 18 employees can be selected annually. Each nomination, which may be submitted by fellow employees or management, must meet criteria developed by the committee. The You Make a Difference Review Board evaluates eligible nominations each month. Winners are announced in a surprise ceremony in which the committee meets in their department and presents the award. Employees selected for the award receive:
ᄃParking space with sign/plaque for a month
ᄃ$100 gift certificate to business of choice within Sussex County
ᄃLetter of congratulations and personal visit from Jeffrey Fried, Beebe president
ᄃPhoto for wall plaque on hall outside of cafeteria
ᄃSpecial pin for badge
ᄃLetter to team member's director and department recognition