Beebe Medical Center Recognizes Employee Quality Initiatives at Third Annual Quality and Safety Awards Banquet
Submitted by
beebemed.org
on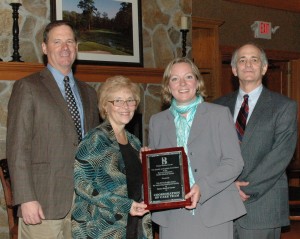 The Coordination of Care Initiative team leader was Megan Williams, FNP-COPC, Director of Population Health. Other team members were: Dianne Bane, RN, Andrew Lightfoot, Linda Sapienza, RN, and Beth West, RN. Pictured here, left to right, are: Dr. Fanto, Dianne Bane, Megan Williams and Jeffrey M. Fried.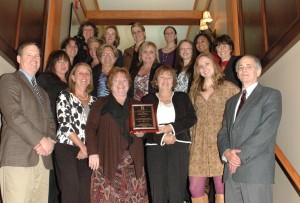 : Hand-Off Communication team leader was Margaret Porter, RN, Nurse Manager of the Third-floor Medical-Surgical Unit. While all members of the unit have taken part in the initiative, the original eight core team members were: Amy Balasus, RN; Tara Bower, RN; Linda Butts, Jen Gray, Colleen Murphy; Joanna Robertson, RN; and RN; and Michelle Robertson. Pictured here are nurses from the third-floor medical-surgical unit who are among the nearly 100 nurses actively participating in the initiative shown with Dr. Fanto and Mr. Fried.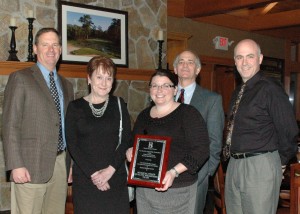 Medical Staff Quality Measures team member and presenter was Rochelle Spriggs-Hall, RN, BS, BSN, Medical Staff Quality Coordinator. Other team members were: Vikas Batra, MD, (Chairman); Ellen Bahtiarian, MD; Gregory Bahtiarian, DO; Steven Berlin, MD; Mouhanad Freih, MD; Nancy Gideon, MD; Joydeep Haldar, MD; Jeffrey Hawtof, MD, FAAFP; Michael Ingerski, MD; Paul Minnick, RN, MSN, NEA-BC; Richard Palmer, MD; Ronald Sabbagh, MD; Michael Salvatore, MD; Ann Smith, RN, BS, CPHQ; and Kristie Zangari, DO. Shown here, left to right are: Dr. Fanto, Ann Smith, Rochelle Spriggs-Hall, Mr. Fried and Dr. Hawtof.
• Beebe Medical Center Surpasses the average National Quality Standard for Patient Care
Beebe Medical Center recognized employees and physicians for their dedication and commitment to high quality patient care during the 3rd annual Quality and Safety Awards Banquet recently held at Kings Creek Country Club.
The three award-winning teams were:
• "Hand-Off Communication" – which focused on improving the method of how nurses share patients' medical information with other nurses and patients at shift change;
• "Medical Staff Quality Measures" – which focused on the creation of a Medical Staff Committee that is responsible for the measurement, evaluation, and oversight of the competency and performance of medical providers through a multi-specialty approach with an emphasis on the pursuit of excellence and collegial learning;
• "Coordination of Care Initiative" – which implemented actions to improve and maintain the health of patients with chronic illnesses such as heart failure after they are discharged from the hospital.
The evening represented the culmination of a year's work by 11 teams made up of a total of more than 75 Beebe team members that had designed and implemented process improvement initiatives impacting the quality of patient care. A member of each team presented information on each project. Stephen Fanto, MD, Chairman of the Board of Director's Quality and Safety Committee, then officially recognized the three winning teams by presenting them with their awards.
"Beebe Medical Center is an excellent hospital with exceptional people," said Jeffrey M. Fried, President and CEO of Beebe Medical Center. "We set very high standards for ourselves at Beebe and establish our goals with the intent of being among the very best hospitals in the United States.
We are here to celebrate our people who come to work to make a difference in people's lives. We applaud their accomplishments, and thank them for their commitment and dedication to our patients."
In his remarks, Mr. Fried noted that according to the new federal quality rating system of hospitals - "Hospital Value Based Purchasing," Beebe Medical Center's 73.3 rating was 32% higher than the national average of 55.5, and 53% higher than the Delaware hospital average of 47.9.
This rating system is extremely important to U.S. hospitals because beginning in October 2012, it directly impacts how much money the Centers for Medicare and Medicaid Services (CMS) will reimburse hospitals for the care they give patients. If the quality of care is inferior, hospitals will be paid less. If the quality of care is superior, hospitals will be paid more. The rating is based on an analysis of such factors as:
• Patient outcomes related to how the hospital treated them for heart failure, heart attacks, and pneumonia;
• How patients fared in regards to their health during and after surgery;
• Patient satisfaction.
"Healthgrades gave Beebe Medical Center more 5-star ratings for quality than any other hospital in Delaware," Mr. Fried added.
Healthgrades, the leading provider of information to help consumers make an informed decision about a physician or hospital, recently announced that Beebe Medical Center is one of America's 100 Best Hospitals for Overall Orthopedics, Joint Replacement, Spine Surgery and Coronary Interventions. It gave Beebe Medical Center 5-star ratings, which represent above-average quality, for several types of care including:
• Overall orthopedic services;
• Joint replacement;
• Total knee replacement;
• Total hip replacement;
• Hip fracture treatment;
• Back and neck surgery;
• Spine surgery;
• Spinal fusion;
• Overall pulmonary services;
• Carotid surgery;
• Treatment of patients with pneumonia, chronic obstructive pulmonary disease (COPD); and sepsis.
The findings are part of American Hospital Quality Outcomes 2013: Healthgrades Report to the Nation, which evaluates the performance of approximately 4,500 hospitals nationwide across nearly 30 of the most common conditions and procedures. The 2013 performance outcomes are now available free to the public at www.healthgrades.com.
During Beebe Medical Center's 3rd annual Quality and Safety Awards Banquet, the other teams that presented their initiatives were:
• Administration of IV Drips – Improved staff education;
• Baby Friendly Hospital – Initiative to make Beebe Medical Center designated as a Baby Friendly hospital;
• Cardiac Team Initiative – Focused on improving documentation in Cardiac Rehab;
• Education of Coumadin Patients – Improved the education of patients about the use of Coumadin;
• Home Health Workplace Culture – Improved communication amongst home health staff;
• Ordering and Issuing Supplies – Computerized supply ordering and distribution within the organization;
• Rehabbing Rehab – Improved the efficiency of the Rehab Department;
• Scabies Initiative – Developed and implemented controls to avoid the spread of the scabies infection that is brought into the hospital by infected patients.