Beebe's 19th Annual Jean & Joan Golf Tournament honors doctors from Delmarva Radiation Services
Submitted by
Administrator
on
The 19th Annual Jean & Joan Golf Tournament was rained out on Thursday, September 24; however, over 100 guests still enjoyed dinner, a live auction, and awards at Kings Creek Country Club. This year's tournament honored doctors from Delmarva Radiation Services for their dedication and commitment to their patients at Beebe Healthcare's Tunnell Cancer Center.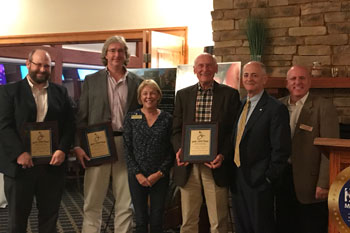 Pictured left to right: Owen Thomas, M.D., Brian Costleigh, M.D. , Beebe Medical Foundation President Judy Aliquo, Andrejs Strauss, M.D. , Beebe Healthcare President and CEO Jeffrey Fried, and Beebe Medical Foundation Vice President of Development Tom Protack (not pictured: Dr. Jennifer Hung)
For more information about Beebe Medical Foundation or to make a donation, call (302) 644-2900 or go to www.beebemedicalfoundation.org. To learn more about how Beebe is Creating the Next Generation of Care, go to www.nextgenerationofcare.org.