Beebe Healthcare Sponsors Music With A Message At H.O. Brittingham Elementary
The message was clear: "Have respect and be kind to one another. Stand Up to Bullying." On Friday, November 14, the First State Force Band entertained more than 500 children at H.O. Brittingham Elementary School in Milton with lively songs and words of "Standing up for what is right."
Children laughed and waved their hands as lead singer and Delaware State Police Troop 7 Captain Alice Bailey waved her hands with them. The band comprises a group of law enforcement and corrections professionals in Delaware who use music to teach children the importance of preserving their safety and well-being by avoiding drugs, standing up to bullying and violence, and by respecting others.
Beebe sponsored the band and plans to sponsor concerts at two more schools in Sussex County, organizer Cheri Will, RN, Domestic Violence coordinator at Beebe, said, emphasizing the importance of educating children about bullying.
"Bullying comes in many forms, including teasing, talking about hurting someone, spreading rumors, leaving peers out on purpose, attacking someone by hitting them or yelling at them," Will said. "Kids also can be bullied through cyber bullying, which is bullying someone with the use of social media such as texting, emails, and Facebook. Children who are bullied often feel powerless, unpopular, and alone."
Studies have shown that children who are bullied report feelings of sadness and loneliness. They also have increased illnesses and problems at school.
"Kids who are bullied may have a hard time standing up for themselves," Will said. "In many cases, bullies grow up to become domestic violence offenders or incarcerated. So, both the bullied child and the bully need help and support."
To learn more about First State Force Band, go to https://firststateforceband.blogs.delaware.gov/ or find them on Facebook.
Beebe Healthcare is a not-for-profit community healthcare system with a charitable mission to encourage healthy living, prevent illness, and restore optimal health for the people residing, working, or visiting in the communities we serve. It offers services throughout Southern Delaware including a 210-licensed-bed hospital, a cancer center, and outpatient facilities at multiple sites providing walk-in care, lab, imaging, and physical rehab services.  For more information, please visit us online at www.beebehealthcare.org.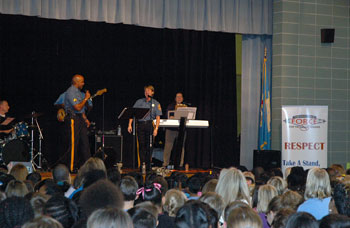 Caption:  The First State Force Band teaches children how to stand up to bullying through music. Here the band is shown during the Beebe Healthcare-sponsored event at H.O. Brittingham Elementary School in Milton this month.