Margaret H. Rollins School of Nursing Hosts Babysitting Safety Class for Teens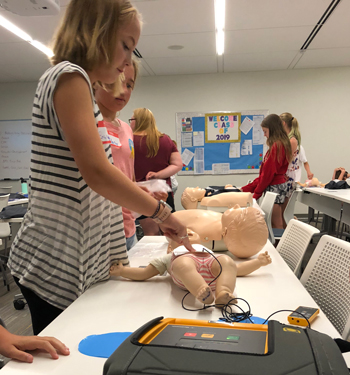 The Margaret H. Rollins School of Nursing held three babysitter training courses in June and July. 
All classes were open to the community and accommodated teens ages 12-15. More than 40 participants learned how to safely babysit infants and children in a caring manner. 
Highlights from the courses included lessons on the business of babysitting and a review of the normal growth and development of a child from infant to ten years of age. The participants also had hands-on training for CPR and first-aid basics, including Epi-Pen use. 
Lewes EMS volunteered their time to teach first-aid basics, how to call 911, and a first look into an ambulance.  All classes emphasized how to ensure safety for both the babysitter and the children in the home.  The course is designed for community outreach, health education, and promoting a future interest in the medical field.  The course was led by Theresa Lynch, MSN, RN, ONC, with assistance from Alexa Baich, MSN, RN; Noelle Bolingbroke, BSN, RN, CCRN; Ellen Faber, MSN, RN; and several senior nursing students.
Beebe Healthcare is a not-for-profit community healthcare system with a charitable mission to encourage healthy living, prevent illness, and restore optimal health for the people who live, work, and visit the communities we serve. The medical center in Lewes is a licensed 210-bed hospital with specialized service lines, including cardiac and vascular, surgical services, medical oncology/hematology and radiation oncology, women's health, and orthopaedic services. Outpatient facilities, conveniently located throughout Sussex County, provide primary care, walk-in care, lab, imaging, and physical rehabilitation services, in addition to Beebe's home care services. For more information on services offered through Beebe, go to www.beebehealthcare.org. To find out how Beebe Healthcare is creating the next generation of care for the community, go to www.nextgenerationofcare.org.
Caption: Emily McCullough and Melanie McKean receive hands-on practice for infant and toddler CPR. For more photos, check out the Margaret H. Rollins School of Nursing on Facebook.