Beebe Healthcare's Adult Activities Center at Gull House Celebrates One Year With Zero Falls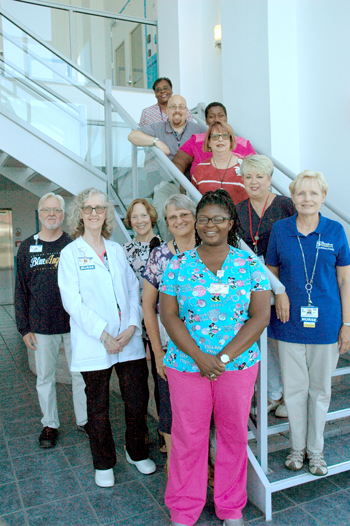 As we grow older, we become more at risk for falls.
Statistics show that one in four older Americans falls each year. For senior citizens, these falls could quickly change their health, ability to participate in activities, and in some cases, can lead to death.
Beebe Healthcare's Adult Activities Center at Gull House recently celebrated one year without any falls!
"It is especially important to eliminate falls here at Gull House because our clients are all fragile, forgetful, and, at times, confused," said Kathleen Graham-Frey, director of the Center. "Our team here is very aware of our clients' health, wellness, and abilities. We make sure to put every process possible in place to prevent a fall or other injury while they are here enjoying our daily activities."
The Adult Activities Center at Gull House, near Lewes, is a structured and supervised adult day care program designed for functionally impaired persons who are 60 years of age or older. The primary goals are to avoid or forestall long-term care treatment; to support or improve social, mental, emotional, and physical levels of functioning; to enhance the quality of life; and to provide respite to families and caregivers.
"Beebe Healthcare is committed to be a High Reliability Organization. High reliability organizations are organizations that operate in complex, high-hazard domains for extended periods without serious accidents or catastrophic failures," said Marcy Jack, Chief Quality and Safety Officer for Beebe Healthcare. "One of the mindsets of High Reliability is to commit to zero harm. The fact that the Gull House achieved zero falls over a year's time demonstrates our commitment to safe, highly reliable care."
The Adult Activities Center recently moved to 34382 Carpenter Way, Lewes, after providing care for clients for decades in Rehoboth Beach.
Beebe partnered with Delaware Division of Services for Aging and Adults with Physical Disabilities to open Gull House in 1987 in response to the community's need for an intermediate care facility to bridge the gap between 24-hour home care and nursing home care. Its services are a vital part of the continuum of care for the elderly, providing a healthful atmosphere and reassurance and support to their families.
"The new location allows our team to provide more engagement for clients in classroom settings. We offer a men's group, music room, horticultural therapy, and In the Moment, a Montessori approach to activity delivery," said Graham-Frey.
The business offices are on the second floor and can be accessed from the central lobby. The Center offers free tours during the week to potential clients and caregivers.
There is also a lending library and resource room for caregivers.  A support group which is open to the public, meets on the third Thursday of each month at 1 p.m.
For more information or to schedule at tour, call (302) 703-3576 or go to www.beebehealthcare.org/gull-house.
Caption: Shown are (clockwise from top) during the celebration: Vera Bundick, Adam Reese, Tarshish Sturgis, Kathleen Graham-Frey, Center Administrator, Ronnie Smith, RN, Stephanie Williams, RN, Erica Piper, Karen Krieser, Joan Thomas, Vice President, Clinical and Ambulatory Services at Beebe Healthcare, Terri Miles, RN, and Terry McKnight.