Beloved nurse, Jeanne Smith, to retire after more than 30 years
In 1965, Jeanne Smith graduated from the Beebe School of Nursing. About 10 years later she returned to Beebe as a staff nurse, splitting her time between the hospital and a private doctor's office.
In 1985, she was appointed the first nurse manager of the newly created employee health department. At the time, Beebe had 300 employees. Today, the healthcare system employs more than 2,000 people.
Jeanne developed the employee health program to what it is today.
After 30 years, Jeanne will retire on Tuesday, September 2. She will continue to work some casual hours and fill in for other employee health team members when they are on vacations.
"The thing I will miss the most is the employees," Jeanne said. "I know every single employee here.  We have wonderful people and I really love getting to know each person."
Jeanne said in her position she has met people from all walks of life – people with outside interests from music to home repair.
Speaking of home repair, Jeanne expects to spend much of her retirement continuing to restore the older home she and her husband have been restoring for 30 years.
"My husband says I am going to repaint every room because that is what I like to do," Jeanne said with her signature smile and a chuckle.
The couple also plans to travel and visit their five children and grandchildren. In addition, Jeanne will be cheering her husband on as he attempts to complete 50 marathons in 50 states. She is also looking forward to spending time in Santa Fe, New Mexico, which she calls her home away from home.
"At 70, I want to leave at the top of my game," Jeanne said of her decision to retire. "I will really miss the employees and my team here … that's the hard part of deciding to leave."
Jeanne said her memories stem back to before computers. She recalls completing paperwork on a typewriter before one of the executives put an old Apple computer on her desk.
"She put it there and told me to play around with it," Jeanne said. "I never had any formal computer training."
Then employees only received one TB test – at time of hire – but today team members get the test annually.
"When I started, if a nurse was stuck with a needle (while tending a patient), she just wiped it off and put a Band-Aid on," Jeanne said. "Today because of all the information we have about blood-borne pathogens, there is a whole standard process to follow for needle sticks. It is a critical part of employee health because people at the hospital are more at risk than others."
Jeanne's commitment to health is apparent in her compassion and caring for all Beebe team members.
"Every time I have a chance, I try to encourage people to embrace a healthy lifestyle through nutrition, exercise and positive thinking," Smith said.\
Teresa (Terri) Schuster, RN, MSN, will be taking over the role of Employee Health Manager. Barbara Portz, RN, Donna Egolf, LPN, and four casual nurses will continue in the department as well.
"For more than 30 years, Jeanne Smith has been an advocate for patients and employees at Beebe; first as a nurse on our inpatient units and second as the manager of our employee health program.  As Beebe team members, we always knew that if we had a medical issue we could go to employee health and Jeanne Smith would take care of us, as if were family," said Jeffrey M. Fried, President and CEO, Beebe Healthcare. "Like any good leader, Jeanne has developed a group of employee health nurses who offer the same kind of care and compassion that she believes are essential for our employee health program, but she leaves big shoes to fill. We wish her the very best in her retirement and know that she will enjoy spending time with her children, grandchildren, and chasing her husband around the country!"
"Jeanne is going to be truly missed by many Beebe team members.  However, no one is going to miss her more than her co-workers in the Human Resources Department," said Katie Halen, VP of Human Resources for Beebe Healthcare. "Jeanne's caring manner and her ability to treat all team members with respect and dignity will never be forgotten."
Beebe Healthcare is a not-for-profit community healthcare system with a charitable mission to encourage healthy living, prevent illness, and restore optimal health for the people residing, working, or visiting in the communities we serve. It offers services throughout Southern Delaware including a 210-licensed-bed hospital, a cancer center, and outpatient facilities at multiple sites providing walk-in care, lab, imaging, and physical rehab services.  For more information, please visit us online at www.beebehealthcare.org.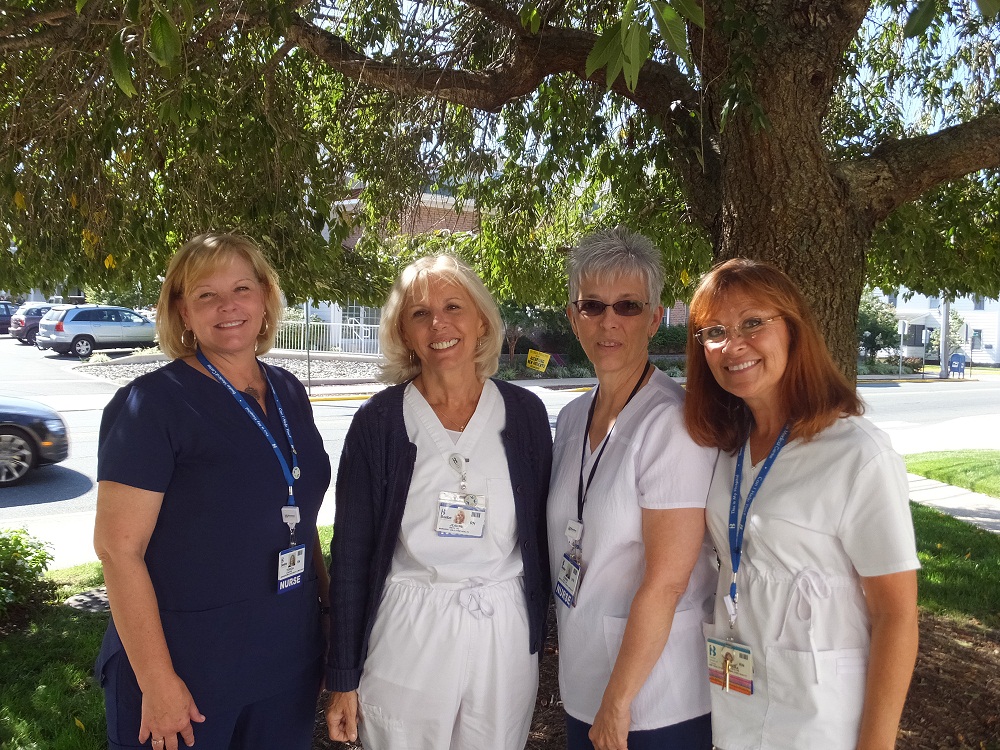 Shown are Terri Schuster, RN, MSN; Jeanne Smith, RN; Donna Egolf, LPN; and Barbara Portz, RN of the Beebe Employee Health team.