Beebe Medical Center Honors Melissa Burton with the "You Make a Difference" Award for October
Submitted by
beebemed.org
on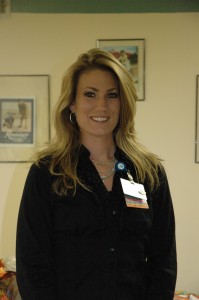 Melissa Burton
Melissa Burton, the Activity Coordinator at Beebe Medical Center's Gull House, has been honored with the Medical Center's "You make a Difference" Award for October.
Melissa is responsible for the activity program for the clients at Gull House, an adult activity center in Rehoboth Beach, Delaware. Each day, she makes sure that activities engage and, more importantly, stimulate the clients, many of whom have some type of dementia. Her cheerful demeanor and positive attitude, no matter what the challenge, are infectious and appreciated by everyone she encounters.
She is known by her peers and the families of clients for her commitment to making sure that clients have enjoyable and productive days, as well as for her willingness to guide volunteers that assist with running the programs and with many other duties.
Melissa's commitment to helping others does not stop at the doors of the Gull House. Recently, while out on a hot day, she came to the aid of an older woman whose car wouldn't start. She had jumper cables in her car and was able to get the woman's car going. Her peers at Gull House became aware of this selfless act when the woman called for an address so she could send a thank-you note.
Melissa is an outstanding role model and leader for all of us. Beebe Medical Center is proud of her and fortunate to have her on the team. She truly makes a difference.
Beebe Medical Center's "You Make a Difference" (YMAD) employee recognition program, which was established in 2002, gives employees the opportunity to recognize their colleagues for outstanding service. The program is similar to an employee of the month program, but 18 employees can be selected annually. Each nomination, submitted by fellow employees or management, must meet specific criteria, and is evaluated by the YMAD committee. Winners are announced in a surprise ceremony in which the committee visits the winner in his or her department and presents the award. Employees selected for the award receive:
Parking space with sign/plaque for a month
$100 check
Letter of congratulations and personal visit from Jeffrey Fried, Beebe president and CEO
Photo for wall plaque on hall outside of cafeteria
Special pin for badge
Letter to team member's director and department recognition
Caption: Melissa Burton earns Beebe Medical Center's "You Make a Difference" Award for October.
Beebe Medical Center is a not-for-profit community medical center with a charitable mission to encourage healthy living, prevent illness, and restore optimal health with the people residing, working, or visiting in the communities we serve. For more information, please visit us online at www.beebemed.org