Beebe Medical Center Honors Patti Hall with the "You Make a Difference" Award for August
Submitted by
beebemed.org
on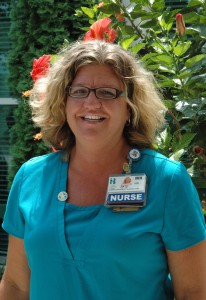 Patti Hall earned the "You Make a Difference" Award for August
Patti Hall, RN, a Nursing Supervisor at Beebe Medical Center, has been honored with the "You make a Difference" Award for August.
Patti is one of six nursing supervisors who make sure that twenty four hours a day, seven days a week, patient care operations run smoothly as they are adequately supported by the nursing staff. Nurse supervisors coordinate with charge nurses in the Emergency Department and on the floors to find rooms for the patients, to make sure that units are staffed with nurses, and to solve problems.
Patti joined Beebe Medical Center 12 years ago, starting on the Medical-Surgical unit on the third floor. She has been a nursing supervisor for four years. She is known amongst the staff for her strong work ethic and willingness to go above and beyond her role. She will work side-by-side with those in the nursing ranks, always ready to give a hand. She fills in when there are staff shortages and is known to solve whatever issue arises. Staff members trust her judgment, knowing she is committed to the safety and welfare of the patients. All the while, she is energetic and has a positive attitude.
Patti has demonstrated her strong desire to do everything possible to achieve the best results in our patient care. She truly makes a difference each and every day at Beebe. Again, congratulations on receiving the August 2012 "You Make a Difference" Award!
Beebe Medical Center's "You Make a Difference" (YMAD) employee recognition program, which was established in 2002, gives employees the opportunity to recognize their colleagues for outstanding service. The program is similar to an employee of the month program, except that 18 employees can be selected annually. Each nomination, submitted by fellow employees or management, must meet specific criteria, and is evaluated by the YMAD committee. Winners are announced in a surprise ceremony in which the committee visits the winner in his or her department and presents the award. Employees selected for the award receive:
Parking space with sign/plaque for a month
$100 check
Letter of congratulations and personal visit from Jeffrey Fried, Beebe president and CEO
Photo for wall plaque on hall outside of cafeteria
Special pin for badge
Letter to team member's director and department recognition