Beebe Medical Foundation Sponsors 17th Annual Holiday of Lights
Submitted by
beebemed.org
on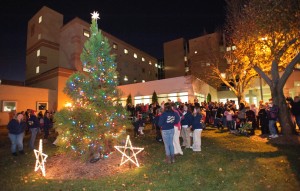 We had a beautiful evening for last year's Holiday of Lights
Once again, the front lawn of Beebe Medical Center will fill with the voices of children singing carols as the Christmas tree is lit with colorful lights representing friends and loved ones who are being honored and remembered.
The 17th Annual Holiday of Lights will take place Thursday, November 29, at 5:30 p.m. Following the tree lighting, refreshments will be served and Santa Claus will make a special appearance.
The names of contributors and those they are recognizing will be published in the Cape Gazette and in the Beebe Medical Foundation's Annual Honor Roll of Donors. To make a contribution, contact the Beebe Medical Foundation at (302) 644-2900, or visit us at our website at www.beebefoundation.org. More than $7,500 was raised last year. Proceeds will again benefit Beebe Medical Center's Population Health Programs of disease prevention, screening and early diagnosis.
Beebe Medical Center is a not-for-profit community medical center with a charitable mission to encourage healthy living, prevent illness, and restore optimal health with the people residing, working, or visiting in the communities we serve. For more information, please visit us online at www.beebemed.org
Photo caption: the community gathers on the front lawn of Beebe Medical Center for the annual tree lighting.