Beebe's Orthopaedic Team Wins In-House Patient Satisfaction Award
Submitted by
beebemed.org
on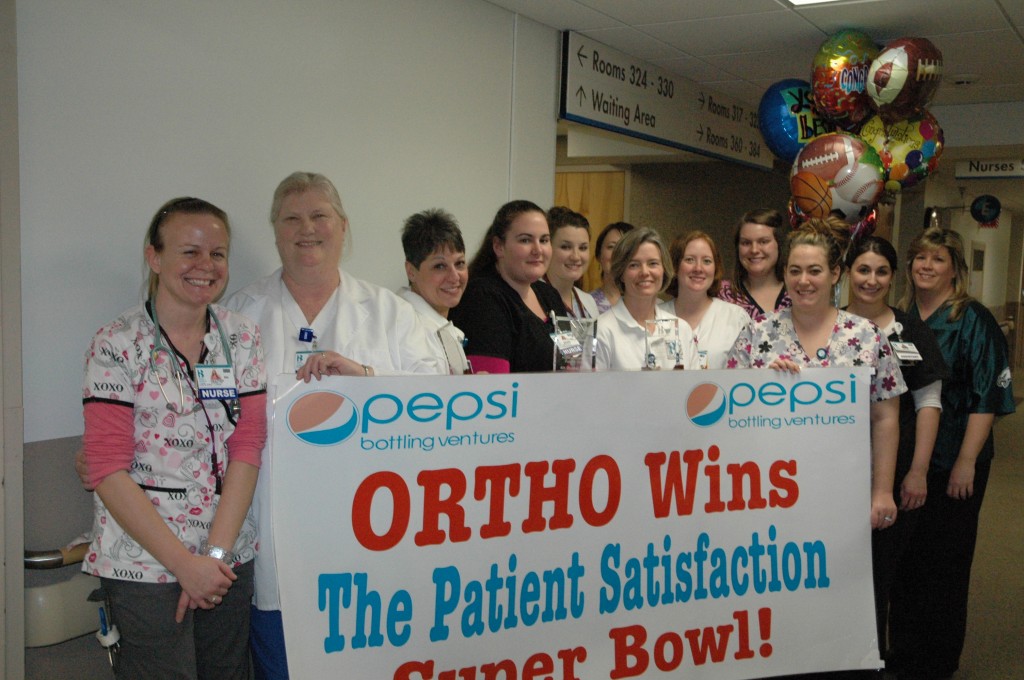 Some members of the Orthopaedic team with representatives from Physical Rehab Services, Pharmacy and Same Day Surgery are: Left to right: Heather Campbell RN , Dot Chimienti RN, Cindy Canevari PT, Melissa Heldreth RN, Cynthia Hovan RN, Dorothy Daisy CNA, Donna Williamson Pharmacy, Jillian Steele RN, Jessica Johnson RN, Jennifer Ricker RN, Ashley Paugh CNA, Regina Newell RN Nurse Manager
Beebe Medical Center's Orthopaedic team won the patient satisfaction "Super Bowl" for attaining the highest overall patient satisfaction score in the hospital from October 1 to December 31, 2011.
The team had a mean score of 89.8 and a percentile ranking of 97%, according to the results of the nationally-recognized, independent Press Ganey patient survey. Members of Beebe Medical Center's Physical Rehab Services, Pharmacy, and Same Day Surgery also were honored because of the support they give to orthopaedic patients.
"One of our goals at Beebe Medical Center is to continually improve patient satisfaction, even as we maintain our focuses on quality care and patient safety," says Paul Minnick, RN, Vice President of Patient Care Services at Beebe Medical Center. "Our staff members on our Orthopaedic unit, together with those who support them, have proved their commitment to the patient."
The Patient Satisfaction Steering Committee presented trophies in a surprise ceremony. The committee is energizing employees throughout the organization to focus on improving the hospitalized patient's experience. The initiative's theme is a sports one that highlights the season. For example, in the summer it was a baseball theme: "Going to Bat for Patient Sat." It just finished the football theme: "Gridiron Action for Patient Satisfaction." Basketball is the focus now with the theme: "Full Court Press for Patient Sat Success." Activities include pop quizzes that promise prizes, free snacks for participating employees, and competitions between hospital units that are creating a rally-like atmosphere.
The four focus areas, which come directly from patient satisfaction surveys, are: addressing patient emotional needs; addressing patient concerns and complaints; making sure that patients are included in decisions about care they receive; and, controlling the noise on the floors.
Caption: Some members of the Orthopaedic team with representatives from Physical Rehab Services, Pharmacy and Same Day Surgery are: Left to right: Heather Campbell RN , Dot Chimienti RN, Cindy Canevari PT, Melissa Heldreth RN, Cynthia Hovan RN, Dorothy Daisy CNA, Donna Williamson Pharmacy, Jillian Steele RN, Jessica Johnson RN, Jennifer Ricker RN, Ashley Paugh CNA, Regina Newell RN Nurse Manager.
Beebe Medical Center is a not-for-profit community medical center with a charitable mission to encourage healthy living, prevent illness, and restore optimal health with the people residing, working, or visiting in the communities we serve. For more information, please visit us online at www.beebemed.org