Sussex County Cancer Survivors Fund Donates $25,000 to Tunnell Cancer Center for the Cancer Patients Special Needs Fund
Submitted by
beebemed.org
on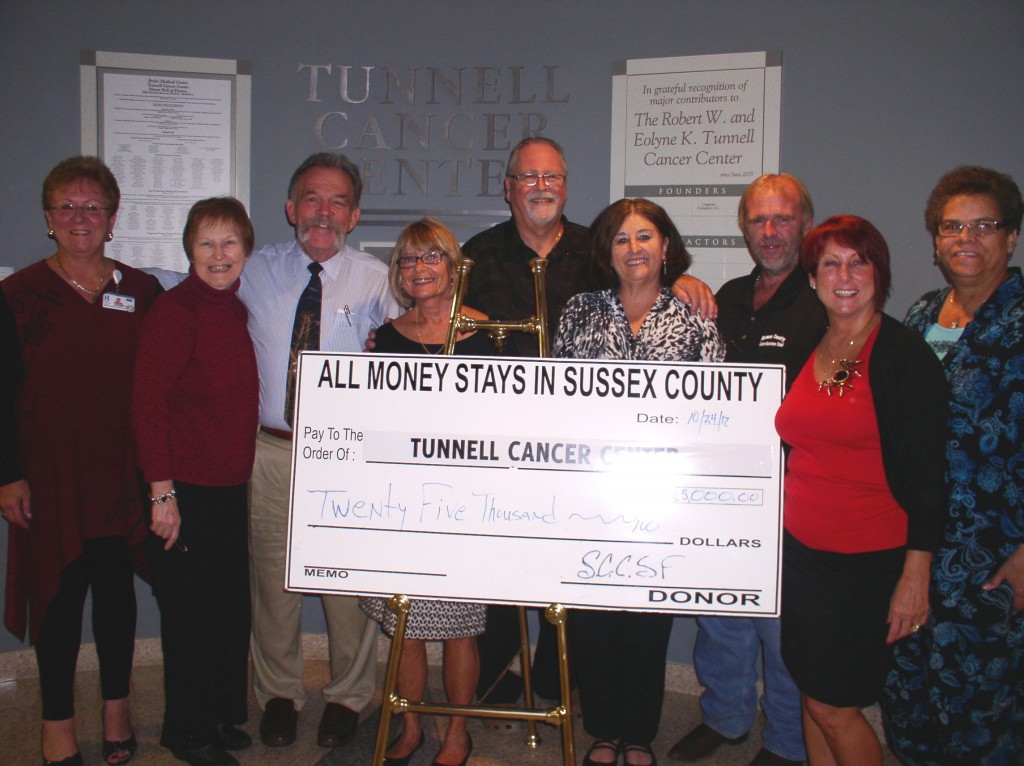 Pictured here are left to right: Cherrie Rich, Executive Director Tunnell Cancer Center; Jackie Sopa, SCCSF committee member; Frank Shade, SCCSF committee member; Kathy Connell, SCCSF committee member; Neal Kubala, SCCSF committee member and Manager of Radiology - Beebe Health Campus; Vera Wright, SCCSF committee member; Kenny Hopkins, SCCSF committee member; Bevann Kubala, SCCSF committee member and nurse at Tunnell Cancer Center; and Betty Streett, SCCSF committee member.
The Sussex County Cancer Survivors Fund (SCCSF) donated a check for $25,000 to Beebe Medical Center's Tunnell Cancer Center in 2012 to provide financial help to patients through the Center's Cancer Patients Special Needs Fund. The organization's goal is "to keep Sussex County money in Sussex County."
SCCSF raised the money through fundraising events throughout the community in 2012. Several local organizations helped with the fundraising efforts, and many people also donated funds.
"We have had wonderful support," says Bevann Kubala, RN, a nurse at Tunnell Cancer Center and an active member of the organization. "One great group that worked hard to raise money are the Miracle Angels who are affected by cancer, either because they are cancer survivors, or they have a loved one who is a survivor. This group of special people held several yard sales and sent letters to family and friends requesting donations."
Mrs. Kubala also cited very successful fundraisers at the Gray Hare Tavern in Rehoboth Beach and at Blooming Boutique in Lewes. Other fundraisers included: A Blast Out Cancer Clay Pigeon Shoot held each year at Owen Station; bingo at Steam Boat Landing; and an Elvis night with Johnny Cash at the Rehoboth Convention Center. Conley's United Methodist Church in Angola opened its doors so that SCCSF could hold a glorious gospel concert that brought many people to hear the beautiful music presented by local gospel performers. Punkin Chunkin organizers donated $5000. Lazy Susan's in Lewes held an auction, and Beebe's Physical Rehab Department at the Beebe Health Campus on John J. Williams Highway in Rehoboth Beach held several events, including car washes and yard sales.
The Cancer Patient Special Needs Fund assists individual patients with limited financial resources. The funds help in covering emergent expenses such as prescriptions or co-pays for medications, medical supplies (i.e. wigs, mastectomy prosthesis), nutrition, essential living expenses, and transportation. Over the past year, the Special Needs Fund assisted 51 cancer patients with a variety of urgent needs, including bills for medicine, utilities, and transportation. A total of $31,600 was spent through the fund in 2012.
The Sussex County Cancer Survivors' Fund, a non-profit, fundraising organization, was founded in October 2008 and has raised more than $100,000 for Tunnell Cancer Center's Cancer Patients Special Needs Fund. Organizers include: Bevann Kubala and her husband Neal Kubala, Frank Shade, Kenny and Suzette Hopkins, Betty Streett, Jackie Sopa, and George O'Shea. Those interested in getting involved with the organization can contact Bevann at (302) 947-2224.