Foundation Events
4th Annual - Tom King Nine & Dine 2021
Oct 28th, 2021 - 8:30am to Oct 28th, 2021 - 2:00pm
MULLIGAN'S POINTE (22426 Sussex Pines Road, Georgetown)
This year's tournament is in Memory of Bob Moore - - it will benefit Beebe's Rehoboth Beach Specialty Surgical Hospital.
About Bob Moore: 
Image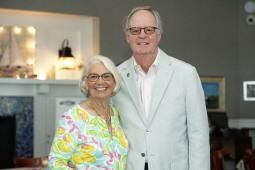 After graduating from college, Bob returned to Rehoboth Beach where he joined his father, working as a pharmacist.  He ultimately became co-owner of Moore's Pharmacy on Rehoboth Avenue. After the pharmacy closed, Bob became founder and senior executive of multiple local real estate development and hotel companies.
He built and ran the Oceanus, Bay Resort, and Southwinds motels, and transformed the Dinner Bell Inn into the Bellmoor Inn and Spa, an award-winning select registry property. Bob served as a Rehoboth Beach city commissioner as well as city treasurer. He was a member of the Rehoboth Beach Chamber of Commerce for twenty two years, two of which he served as president.
He was an active member of the Beebe Medical Center Board of Directors for eleven years where he served on the finance and investment committees. He also served on the Beebe Medical Foundation Board for eleven years serving as its vice chair and chair of the finance committee.
The Tom King Nine & Dine committee has chosen to honor Bob for his years of service to Beebe and our community. Bob embodied many of the same values as Tom King: love of his family and friends, commitment to the local community, service on boards, and philanthropy.  Bob would be proud to know that his family and friends are raising funds in his honor and memory to support Beebe Healthcare's Rehoboth Specialty Surgical Hospital.
Please register below to be with us in memory of Bob.
Registration @ 8:30am - - - Shotgun Start @ 9am - - - BBQ Lunch to follow Golf
---