Preparing for Orthopaedic Surgery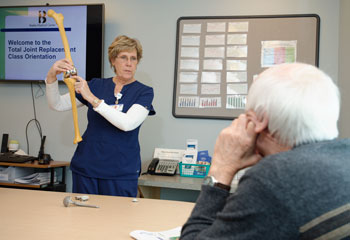 It is important to attend an education class at Beebe prior to your surgery. If you have questions about your surgery, contact the Orthopaedics Nurse Navigator.

Total Joint Replacement
Presurgery education programs for joint replacement patients contribute to strong medical outcomes. Beebe Healthcare's Total Joint Replacement program provides a multidisciplinary team approach to your care. Your team will consist of:
Orthopaedic Surgeon

Anesthesiologist

Nurse

Discharge Planner

Nursing Assistant

Physical and/or Occupational Therapist

Chaplain

Registered Dietitian
Spine Surgery
The goal of Beebe Healthcare's Spine Surgery program is to provide you with the best postoperative outcome by preparing you physically, mentally, and emotionally for your surgery. Our comprehensive, multidisciplinary team is highly skilled and has received national recognition.

Preoperative education is provided on an individual basis depending upon the anticipated procedure. You will receive a phone call from one of our orthopaedic staff to review the surgery and what to expect during your stay and when you return home.