Beebe Goes Purple: Believe We Can Change This
In support of Sussex County Health Coalition's Delaware Goes Purple campaign, Beebe Healthcare is "Going Purple" for September and Opioid Awareness Month in order to raise awareness of substance abuse and reduce the stigma surrounding addiction.
By "Going Purple," the community can make a difference, celebrating life and supporting one another. We are looking to local businesses, churches, and EVERYONE in the community to help us turn the community purple this September. Please join us at our annual Beebe Goes Purple event - a drive-thru, socially distanced event - on October 7, 4-7 p.m., at Hudson Fields, near Milton. See flyer for details.
Beebe Goes Purple is in partnership with Sussex County Health Coalition, which exists to engage the entire community in collaborative family-focused effort to improve the health of children, youth and families in Sussex County. Learn more about the Coalition here.
---
SEE YOU OCTOBER 7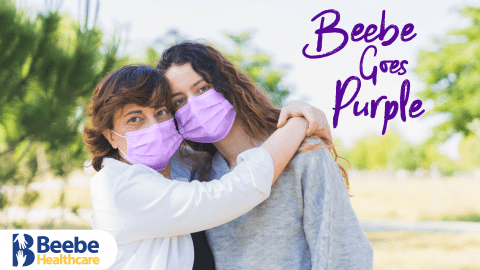 Join us at Hudson Fields, Route 1 near Milton, for the Beebe Goes Purple event: October 7, 2020, from 4-7 p.m. A 1-mile drive-thru event to: Create Awareness. Reduce Stigma. Offer Resources. Experience Connection.
To learn more, call Beebe Community Outreach at 302-645-3337. Support opportunities are below.
A naloxone distribution and resource center will be available during the event to train people how to identify an overdose and what steps to take to administer naloxone, which can save lives during an opioid overdose. Those trained will immediately receive an opioid rescue kit.
The event will feature a program of speakers beginning at 6 p.m. The speakers will speak at the event, but to take COVID precautions, the speeches will be live-streamed via Facebook Live. During the speeches, we will all ceremoniously light a candle - both at the event and wherever you are as long as you can safely light a candle as a sign of hope and unity.
To support the event and the Beebe Goes Purple Fund, Beebe Medical Foundation is selling yard signs. This Fund supports education, awareness, treatment, and community outreach surrounding opioid addiction in Sussex County. You can make a difference – Beebe Medical Foundation is selling yard signs that you can display at your home or business or on the lawn at Beebe Healthcare's Margaret H. Rollins Lewes Campus. Fill out the form below to purchase your yard sign in honor of or in memory of someone affected by addiction.
Need help with addiction or mental health? Help is Here in Delaware.
Anyone experiencing a crisis, call 911. For those seeking resources or guidance related to behavioral health or substance abuse, call Beebe Behavioral Health at 302-645-3100, Ext. 5284. Learn more about Delaware Goes Purple.
---
Register Your Support - Beebe Goes PURPLE YARD SIGN
You can make a difference! Beebe Medical Foundation is selling yard signs (below) that will be displayed during the Beebe Goes Purple event at Hudson Fields in October.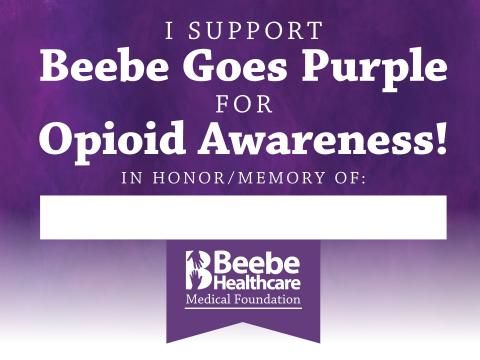 Scroll down to purchase your yard sign(s)! Order as many as you like - decorate them however you choose. Consider positive statements honoring individuals or groups or dedicating your sign to the memory of a loved one.
Proceeds go to Beebe's Go Purple Fund - supporting training and educational efforts surrounding the Opioid Epidemic in Sussex County, Delaware.
Yard signs are $25 each and are available for purchase through September 30, 2020. All orders will be held until Wednesday each week and then delivered on Friday. For example, if you purchase your sign on Thursday, then it will not be delivered until the following Friday.
Place your sign in your yard, at your business, or in front of the Beebe Healthcare Lewes Campus.
---