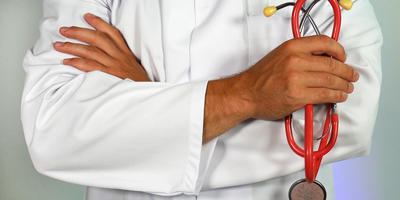 When Sal Curci of Milford noticed a gray-tinge to his toes, he knew he had better talk to his doctor. It turned out that Sal had many symptoms that were all related to his vascular health.
The vascular and vein experts at Beebe Vein Center helped him take the necessary steps to get back to a healthy life.
How to Know it is Time to See a Doctor about Your Veins
Vein illness can be ongoing for some time before you might notice it.
For Sal Curci of Milford, Delaware, he had been having symptoms, but never realized they were related to his veins.
"It was several years ago and I remember sitting on the couch and looking at my toes," recalls Sal Curci. "I had been noticing they were sore, but at that moment I saw they were gray."
At the recommendation of his primary care provider, Sal went to Beebe Vascular and the Beebe Vein Center.
"It was a shock what he told me. I was told I had the beginning of gangrene in my toes and I needed to lose 100 pounds," Sal said.
Sal had Peripheral Artery Disease or PAD, which is a common yet serious disease affecting more than 8.5 million Americans. PAD is a disease of the arteries which can lead to amputation.
Dr. Carlos Neves, board certified vascular surgeon with Beebe Vascular and Beebe Vein Center, says that often patients do not realize they are having vascular – vein or artery – issues until their toes are turning gray or they are barely able to move around anymore.
He encourages patients to talk regularly to their doctors about any changes they notice, even if those changes seem gradual.
Some symptoms include:
Leg pain, cramps, or soreness, not related to exercise or activity
New varicose or spider veins appearing
Grayness in legs or toes
Those with other illnesses may also be at higher risk such as those with diabetes, heart disease, or who have had a stroke.
Patients often say they thought they were moving less simply because they were getting older. However, sore or painful legs could mean a vascular issue that could be solved by a procedure at Beebe Vascular.
"After procedures, many of our patients come back and tell us they had no idea they could feel this much better," said Dr. Neves. "I hope anyone who might have vein or artery concerns talks to their doctor and then comes to see us at Beebe Vascular and Beebe Vein Center."
Call to learn more: (302) 644-4954.