Beebe's Board Certified spine surgeons have been collaborating with surgical and orthopaedic staff to continually improve and expand Beebe's Spine Surgery program.
In 2013, Beebe Healthcare began offering an education class specifically for patients to prepare for spine surgery. This class provides patients with important information and guidance to help them remain safe and avoid falling, have a quicker recovery, and experience the best possible outcomes. Below is some information covered in the class. Schedule your class 1-2 weeks prior to surgery. For additional information, download the PDFs below.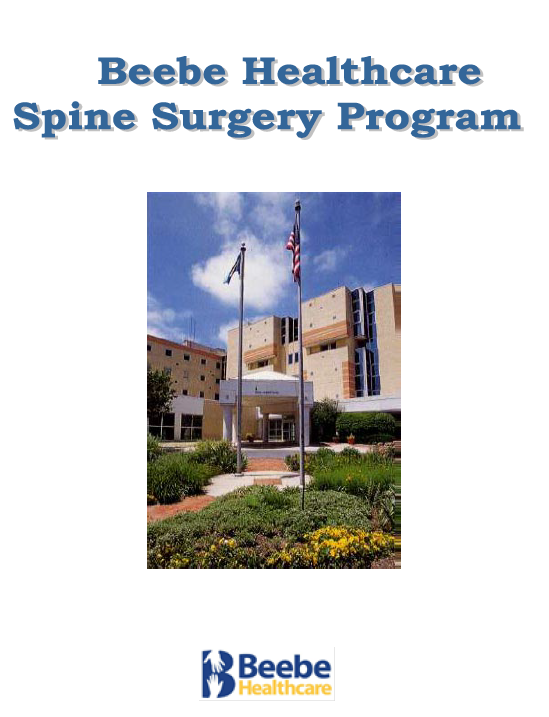 Preparing For Surgery
Make sure your home is ready for you to return from surgery. The most important part of post-surgery care is safety. Remove items you may trip over. Set up a bed on the first floor if you prefer and make sure family and pets are ready for your return. Pets should not be sleeping in bed with patients after surgery. Other precautions to take include:
Pick up throw rugs

Have a chair with arms

Move frequently used items to waist level

Remove clutter/ arrange furniture

Keep areas well lit

Prepare food ahead of time

Set up your support system for when you are discharged to home.

Eat a healthy well-balanced diet for optimal healing
After Surgery
Recovering after spine surgery can be a long process. Make sure your family and friend support system is ready to help you. Most patients experience pain and difficulty performing daily tasks, including:
Walking

Sitting

Bending

Sle

eping

Driving

Dre

ssing

Bathing

Toileting

Household tasks
IF YOU SMOKE, NOW IS THE TIME TO STOP.
Smoking decreases your body's ability to heal

Talk with your surgeon now about quitting smoking. Beebe offers free counseling.

Beebe Healthcare is a smoke-free campus
For more information or to attend a Spinal Surgery Orientation Class, call Orthopaedic Service Line Nurses: Melissa Heldreth, RN, or Betty Hughes, RN, at (302) 645-3104.
Download The Spine Book - Information on Beebe's Spine Surgery Program - PDFhere.​
Download the full Spine Surgery Class Presentation PDF by clicking here.
Information and Directions to the Spine Surgery Class PDF.