Ron Drosdzal: I'm the Luckiest Person Alive.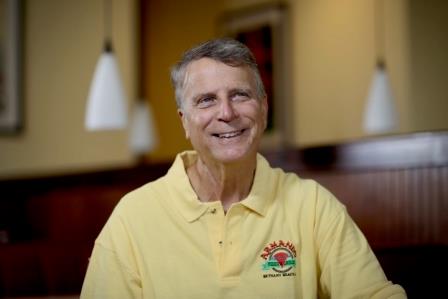 Ron Drosdzal tells people he's the luckiest person alive.
And he means it. After suffering multiple strokes, Ron says the doctors at Beebe Healthcare's Emergency Room and Vascular program saved his life.
It put everything into perspective, Ron says. Beebe gave him a second chance and he's taking it. Ron goes for walks every day. He golfs more. He holds the vacation time with his family, or traveling to March Madness basketball games very dear to him.
"I was in a life-and-death situation and I had to act upon it," Ron says. "I was very fortunate to have a hospital like Beebe that took care of it. It was just the total package."
It started off as a normal November day when Ron felt his left side go numb. After two aspirins, he began to feel better and went to the gym near his Bethany Beach restaurant, Armand's Pizzeria & Grille.
After a few spins on the elliptical, he still didn't feel right, and his sister took him to the hospital.
Ron didn't know it yet, but a piece of plaque had broken off from the carotid artery and traveled to his brain, causing the stroke.
Dr. Abraham Scheer, Beebe's Medical Director of Neurology and Stroke Services, took care of Ron in the Emergency Department. 
"Dr. Scheer, he was excellent," Ron says.
The choice to stay, and an "incredible" team
It was clear that Ron would have to stay the night. Dr. Scheer stayed in communication throughout the night to reassure Ron that meeting with Dr. Mayer Katz, who founded Beebe Healthcare's Vascular program in 1989, would be the best thing for him.
Dr. Katz and his team answered all Ron's questions at 7 a.m. the next morning. Ron wanted to stay at Beebe, despite his friend's suggestion of going to a bigger hospital.
"I've never met doctors – Dr. Scheer and Dr. Katz – who were so incredible," Ron said. "Dr. Katz gave me his cellphone. We have become really good friends. His follow-through was just amazing. He's just incredible. To see how much Dr. Katz enjoys what he does, how good he is – he's a true professional.
"Dr. Scheer and Dr. Katz could be at any major hospital anywhere in the country. They are so talented and we are so lucky to have them here at Beebe Healthcare."
"We have a great asset down the shore and that's Beebe Healthcare"
Ron's story was not over. After he underwent a right carotid endarterectomy, and a night in the ICU, he was discharged. It was later that afternoon he felt his left side go numb again.Dr. Scheer was waiting in the Emergency Department when he arrived.
"The care I got from Dr. Scheer, Dr. Katz, and the team there – they were spot on with everything they did," Ron says.
Ron isn't afraid to share his story of a frightening time in his life because of the care he received at Beebe. Splitting his time between his home in Washington, D.C., and Bethany Beach.
He held an event at his restaurant to tell people about Beebe after it was announced a cancer center and free-standing emergency department was coming to Millville as part of Beebe's Next Generation of Care South Coastal Campus.
"The whole staff there was tremendous," Ron says. "They're at looking into bringing some of the newest technology and having some of the best doctors. It gives you an added confidence that if something happens, I know I'll be taken care of.
"Moral of the story is, we have a great asset here down the shore and that's Beebe Healthcare."
More about Beebe's Advanced Primary Stroke Center
As a certified Advanced Primary Stroke Center, Beebe Healthcare is recognized by emergency medical personnel as a hospital of choice in a stroke emergency. In 2016, Beebe Healthcare earned The Joint Commission's Gold Seal of Approval® and the American Heart Association/American Stroke Association's Heart-Check mark for Advanced Certification for Primary Stroke Centers. The Gold Seal of Approval® and the Heart-Check mark represent symbols of quality from their respective organizations.
The Joint Commission evaluates compliance with stroke-related standards and requirements, including program management, the delivery of clinical care, and performance improvement. "Beebe Healthcare has thoroughly demonstrated the greatest level of commitment to the care of stroke patients through its Advanced Certification for Primary Stroke Centers," said Patrick Phelan, interim executive director, Hospital Business Development, The Joint Commission. "We commend Beebe Healthcare for becoming a leader in stroke care, potentially providing a higher standard of service for stroke patients in its community."
As a community-owned, not-for-profit healthcare system, Beebe continues to depend on the generous support of individuals, corporations, businesses, and private foundations. All gifts, large or small, to Beebe Healthcare, are tax deductible and are channeled through Beebe Medical Foundation.  Please consider making a gift today and share your amazing stories with our community. To make your proud personal donation or to learn more about Celebrate Excellent Care, go online to www.beebemedicalfoundation.org or contact the Beebe Medical Foundation at (302) 644-2900 or write to foundation@beebehealthcare.org.
Learn more about Beebe Vascular.