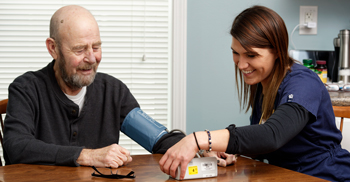 When Jim McDonough was discharged from the hospital, his wife, Eloise, was concerned. She worked part-time and was worried about Jim being at the house by himself.
Beebe Home Care Services came to the McDonough's home and talked to them about a virtual health monitoring program, called telehealth.
"I was thrilled to learn that the Home Care team could monitor Jim virtually. It gave me incredible peace of mind," Eloise said.
Each morning, Jim has his routine. He weighs himself, gets his cup of coffee, and then sits at the dining room table to take his blood pressure and other vitals.
"It's simple," Jim said. "It's just part of what I do each morning. I keep a log here in the kitchen and the information is uploaded through a device each day. If my numbers change, the Beebe Home Care nurse either calls or stops by."
"Beebe Home Care has really been at the forefront when it comes to utilizing telemedicine services," said Dana Warrington, Director of Beebe Home Care Services. "It is really the best of both worlds because our care providers come meet with the clients regularly, and we can monitor their health remotely 24/7."
Extra Brain Power At Your Bedside
While Beebe Home Care Services use a telehealth program, telemedicine or the practice of connecting with medical professionals virtually, is a growing practice across all realms of medicine.
Telemedicine allows our patients and care team here are connected digitally—via secure video link—to top specialists at regional facilities, allowing our patients to receive the best care right at their bedside.
In Beebe's Emergency Department, our doctors are able to connect with specialists both locally, regionally, and in neighboring states. While the specialist is speaking to you via the video link, your medical files are also being transferred electronically—so your care team has all the information they need to provide you with the best care.
Beebe has a partnership with Jefferson Neuroscience Network, so when a patient experiences a stroke in Lewes or has neurological symptoms, our care providers can utilize a teleconference with Jefferson experts. In some cases, treatment can be started here and in other cases, the patient is transferred up to Jefferson.
At Beebe Cardiothoracic Surgery, physicians recommend counseling for patients who have had a heart attack and need surgery. "Providing an option, in our office, for patients to speak to someone about the emotional changes they are experiencing is important," said M.L. Ray Kuretu, MD, board certified cardiothoracic surgeon.
And, telemedicine also offers the opportunity for physicians to consult with each other without having to take time to travel.
Beebe Cardiothoracic Surgery has started using teleconsulting. This service connects physicians and specialists so they can go over patient information and discuss the best, individualized treatment plan. "It's
really a win-win-win: a win for the primary care doctor, a win for myself to know about a patient before they come in, and certainly a huge win for the patient who will already have some answers prior to coming in for a first appointment," said Kurt Wehberg, MD, board certified cardiothoracic surgeon.
Considering surgery or have questions about home care services? Beebe Nurse Navigator Carrie Snyder can help.
Contact her here.