Healing minds, bodies, and spirits every day
Life is filled with obstacles. Some, like a cancer diagnosis, are more challenging than others, and that's when a positive attitude and the support of family and friends are more important than ever. Here at Beebe's Tunnell Cancer Center thousands of people and their family members come through our doors; many remain our dear friends to this day. That's because a high percentage of cancer patients recover from their disease and lead active lives. More than ever, medical science offers treatments and therapies that can help people triumph over cancer.
We have helped thousands of cancer patients suffering from a range of types, including but not limited to:
Cancer Survivor: Keni-Joy Walters-Clark: enjoys sharing a love for Corvettes with oncology nurse Lori Koyanagi, RN, OCN. A bond between the two women was formed while Keni-Joy was being treated at Tunnell Cancer Center. Read her story and others
Bladder Cancer
Colon and Rectal Cancer
Endometrial Cancer
Kidney (Renal Cell) Cancer
Leukemia
Lung Cancer
Melanoma
Non-Hodgkin's Lymphoma
Pancreatic Cancer
Prostate Cancer
Thyroid Cancer
Our Mission
The Robert & Eolyne Tunnell Cancer Center at Beebe Healthcare's mission is to provide both hope and cure. From diagnosis through treatment and beyond, the patients at the Tunnell Cancer Center are never alone. Patients, nurses, and staff are there to listen, support, and encourage.
Download the 2014 Tunnell Cancer Center Calendar.
A "One-Stop" Setting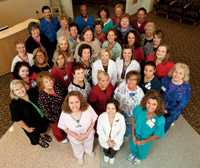 The Tunnell Cancer Center offers comprehensive cancer care services. With a dedicated staff close at hand, the center provides the most modern diagnostic and treatment technologies.
Initial Consultation: Consulations are an essential part of our approach. Here, family members may join patients and oncologists in understanding a diagnosis and the plans for treatment.
Treatment Planning: Treatment planning at the center is a complex process. Developing a patient's total plan for treatment requires precise interpretation of all diagnostic studies, plus a thorough evaluation of all clinical findings through diagnostic exams such as mammography, CT scans, MRI, diagnostic X-rays, endoscopy, ultrasound, and nuclear medicine.
Specific Treatments: Cancer treatments depend upon the type of cancer, the location of the cancer, whether it has spread, and the overall health of the patient. Data is fed by a dosimetrist into a sophisticated computer that composes a tailored treatment plan—assuring maximum benefits from the resulting daily treatments.
Radiation Oncology: Radiation therapy is the careful use of a linear accelerator to emmit high-energy X-rays, electrons, and other sources of radiation. It may be used in combination with chemotherapy to shrink a tumor and cure a cancer. It is painless and often a possible alternative to surgery. Learn more about radiation and chemotherapy treatment options.
Medical Oncology: Chemotherapy (the use of medications in the treatment of cancer), a highly individualized cancer treatment, can be administered in combination with radiation and/or surgery. Special drugs can destroy cancer cells, cure cancer, halt the spread of cancer or slow its growth, and help to relieve symptoms. Learn more about Hyperthermic Intraperitoneal Chemotherapy (HIPEC).
Oncology Surgery: Surgical oncology fellowship trained surgeons at Beebe Healthcare perform surgery to remove tumors. Surgeons work closely with other physicians involved in a patient's care to help ensure the best possible outcome.
Certified Care: Certified by the Association of Community Cancer Centers, the Tunnell Cancer Center meets the standards of the Association and is recognized as an active member in good standing with full rights and privileges. The center is accredited by the American College of Surgeons Commission on Cancer.
Learn more about all cancer treatments. >
Annual Reports
Chairman's Message:
By Brian Costleigh, MD
Radiation Oncologist
Chairman of the Beebe Healthcare Cancer Committee
This past year has been a significant one in regards to the advancement of cancer care and treatment at Beebe Healthcare. We have continued to increase and improve the radiation and chemotherapy treatment options we provide at Tunnell Cancer Center. These advancements include the implementation of Stereotactic Body Radiation Therapy for certain cases and the expansion of Hyperthermic Intraperitoneal Chemotherapy (HIPEC) for ovarian and colorectal cancers. At the same time, we have introduced some of the latest technologies, such as MRI-guided breast biopsy and image-guided radiofrequency ablation for liver and kidney cancers. Our surgical oncologists have increased the complexity of the operations they perform at the Medical Center in Lewes, which has led to specialized treatment of pancreatic, biliary, and lung cancers. Our Breast Health Program is of particular note, as it is the only National Accreditation Program for Breast Centers (NAPBC) Breast Center of Excellence in Delaware.

Safety and quality in patient care have remained the most important focus of everything we do. Our clinical teams continually look at ways in which to improve patient care. Our efforts this past year were reflected when Tunnell Cancer Center earned the Quality Oncology Practice Initiative (QOPI®) Certification. Our focus on offering the best care to our patients also was reflected in our successful implementation of our electronic medical record system. This technology ensures that our patients receive consistent quality care, whether they are in the hospital, in their physician's office, or being treated at Tunnell Cancer Center.

Our team, led by Srihari Peri, MD, Medical Director of Medical Oncology, has been actively involved in advancing the quality of cancer care by participating in research efforts, both nationally and statewide, to improve the care of patients with breast and colorectal cancer. Our research nurses also spend countless hours investigating available clinical trials in order to support our oncologists in determining the best treatment options for our patients.

This year, again, I applaud the commitment our team makes every day to our patients. I am proud to be a member of this team that brings quality cancer care to our friends, our families, our neighbors, and to all of you.
- Dr. Brian Costleigh
Download the 2012-2013 Beebe Healthcare Tunnell Cancer Center Annual Report
Tunnell Cancer Center Is Nationally Recognized for Quality
The Commission on Cancer of the American College of Surgeons recently granted a Three-Year Accreditation with Commendation to Tunnell Cancer Center at Beebe Healthcare. We have consistently received the Certificate of Accreditation from the Commission on Cancer. This is the third time the center has also received a Commendation as part of the Accreditation.
Warm Atmosphere
The center is designed in a spacious, bright fashion. Families have large, comfortable waiting rooms where physicians and nurses can teach, answer questions, and help solve problems. Patients brimming with concerns about their disease and treatments will find hope and the answers to their questions.
Team Approach
The staff at Tunnell Cancer Center is dedicated to addressing all of our patients' medical and emotional needs, and our goal is for our patients to eventually return to their normal lifestyles. We work closely with other doctors who are involved in our patients' treatment. We keep in touch with referring physicians on a regular basis, keeping them informed of patient progress with complete reports of findings and recommendations of treatment.
Our Support
While facing cancer is certainly a life-changing experience, we strive to support you in every way we can, so you can maintain the optimistic attitude and good emotional health that play a vital role in the effectiveness of treatment.
Learn about our support services. >
A Standard of Care
As a person diagnosed with cancer, you should expect to have:
Satisfying communication with doctors, nurses, and others treating your cancer
Doctors, nurses, and others treating your cancer, ask you about your needs for information and emotional and social support
A healthcare person or team who works with you to develop and carry out a plan that:
Links you to the information and support that you need
Coordinates your medical, emotional, and social care
Helps you to manage your illness, treatments, and health
If your doctors, nurses, or others who treat your cancer do not provide this type of care, please ask for it.
— National Coalition for Cancer Survivorship
Contact us for more information:
Tunnell Cancer Center
18947 John J. Williams Highway (Route 24)
Rehoboth Beach, Delaware 19971

Tunnell Cancer Center, during office hours: (302) 645-3770
After hours: (302) 856-0641
Medical Oncology: (302) 645-3770
Radiation Oncology: (302) 645-3775
Clinical Trials: (302) 645-3770 ext. 2635
Community Education: (302) 645-3263
Integrative Health Programs: (302) 645-3528
Screening Programs: (302) 645-3171
Support Groups: (302) 645-3770 ext. 3769
Triage: (302) 645-3770 ext. 2611
bb-CancerAR_2013.pdf
2014CancerCalendar.pdf
web2014-Miracle Mile Spirit of Hope Award Nomination Form.pdf