Beebe Healthcare Awards Amber Bare with L.O.V.E. Letter Award
Image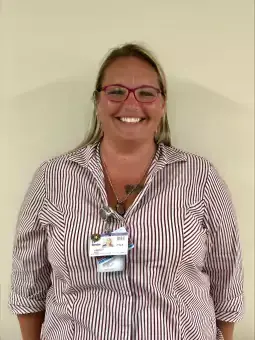 Beebe Healthcare is proud to recognize Amber Bare as the May recipient of the Living Our Values Every Day (L.O.V.E.) Letter Award. 
Amber Bare, a Staffing Coordinator, was awarded this recognition for going above and beyond to help a patient during a challenging time.
"Kudos to you, Amber, for serving one of our Women's Health patients," wrote Tiffany Travis and Autumn Ralph, two nurses who submitted the nomination letter. "Women's Health discharged a patient whose baby needed to be flown out following its birth the previous evening. When she got to her car, it wouldn't start and needed a jump."
"Amber quickly jumped into action knowing that this was the last thing this new mom needed during such a difficult time," Tiffany and Autumn continued. "Amber assisted in popping the hood of the patient's vehicle and jumped her care so that she could drive to AI DuPont to be with her baby."
"We cannot even imagine what this woman was going through, and we are so, so glad that Amber was there to serve her in a time of her greatest need," wrote Tiffany and Autumn. "Thank you, Amber! You are the jack of all trades and we appreciate the lengths you go to serve your patients. You absolutely went above and beyond to help out!"
Through her efforts, Amber has demonstrated many of the Beebe values, including "build trusting relationships with compassion and kindness," and "act with passion and love for others to make a difference." 
Congratulations, Amber, and thank you for all you do!
Beebe Healthcare's L.O.V.E. Letter Recognition Program is similar to an employee of the month program. Team members are encouraged to send L.O.V.E. notes to other team members during the course of the month. A committee then evaluates the L.O.V.E. notes and selects one to receive the monthly L.O.V.E. Letter. Winners are announced in a surprise ceremony in which the committee visits the winner in his or her department and presents the award.  Employees selected for the award receive:
•    Parking space in the parking garage for one month
•    $100 gift card donated by Fred and Lyndie Hertrich
•    Gift card to Waves Car Wash
•    100 points toward Beebe L.O.V.E. Notes Merchandise
•    100th Anniversary History Book: Two Men With a Dream: The Story of Beebe Healthcare
•    Letter of congratulations and personal visit from members of the executive team
•    Their photo added to the L.O.V.E. Letter wall plaque 
•    Letter to team member's director and department recognition
---