Diabetes Management & Medical Nutrition Therapy
Since 1998, Beebe Healthcare's Diabetes Management team has provided diabetes education for the community. This comprehensive program is nationally recognized by the American Diabetes Association (ADA) for providing education that meets the national standard for diabetes self-management education programs. In addition, dedicated medical nutrition therapists are available to help clients learn about how nutrition affects their diabetes.
Patients who work with Beebe's Diabetes team are able to reduce their A1C numbers. On average, patients have an A1C reduction of about 10%.
And, 73% of Beebe Diabetes patients report meeting their goals after working with our team.
Virtual visits and telehealth visits are available to patients who cannot or do not want to come into the office. When you are scheduling your appointment, let us know you are interested in a telehealth visit. These virtual visits are conducted via a secure video link.
---
Meet the Educator
TINA TROUT, CNS, CDE, is Beebe's American Diabetes Association-recognized Diabetes Program Coordinator, assuring compliance with national standards. She is a Certified Diabetes Care and Education Specialist who has provided positive learning experiences for individuals and their families living with diabetes in the community. Tina earned both BSN and MSN degrees from the University of Delaware. She practices as a Board Certified Clinical Nurse Specialist, evaluating adults with diabetes and providing treatment recommendations. Tina has focused on educating individuals, families, communities, students, and professionals in the practice of quality diabetes care. Tina has participated as a local and statewide board member for the American Diabetes Association, the American Association of Diabetes Educators, and the Delaware Diabetes Coalition. She enjoys gardening, cooking, and traveling.
Meet the Team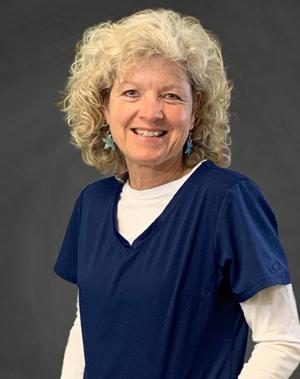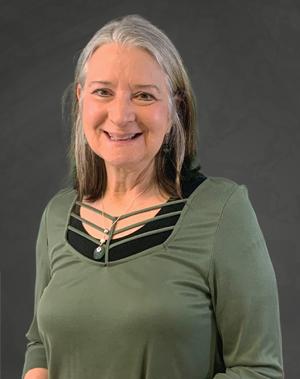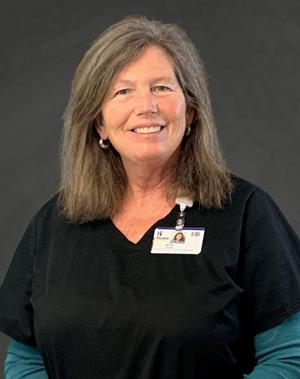 ---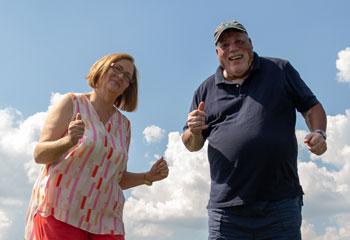 Deb & Milton Brown: We Were Successful in Improving Our Numbers
Deb and Milton Brown of Bridgeville worked with Beebe providers and specialists to improve their numbers and reduce their symptoms of diabetes.
---
Common Questions about Diabetes
There are four main types of diabetes: prediabetes, type 1 diabetes, type 2 diabetes, and gestational diabetes.
Prediabetes is a pre-cursor to diabetes. It means you might not have any symptoms at all yet, but your blood sugar is not being properly controlled. It can lead to type 2 diabetes.
Type 1 diabetes is generally a condition you are diagnosed with earlier in life. It means your pancreas does not produce insulin. You will need regular insulin in order to manage your diabetes.
Type 2 diabetes is generally diagnosed later in life – anywhere from your late teens to mid-50s. It means your pancreas might still produce some insulin, but not enough to regulate blood sugar. It might also mean that your body has become insulin resistant and is not able to use the insulin that your pancreas does create. You will need to focus on monitoring your blood sugar, eating a healthy diet, and perhaps taking medication or using insulin.
Gestational diabetes is diagnosed during pregnancy. It means you will likely have gestational diabetes during future pregnancies as well and you will have to be closely monitored during your pregnancy. In some cases, once you give birth, your diabetes will go away. It means you are at higher risk of developing diabetes outside of pregnancy as well.
The common symptoms are:
Urinating often
Feeling very thirsty
Feeling very hungry - even though you are eating
Extreme fatigue
Blurry vision
Cuts/bruises that are slow to heal
Weight loss - even though you are eating more (Type 1)
Tingling, pain, or numbness in the hands/feet (Type 2)
In order to be diagnosed with any type of diabetes, your healthcare provider will want to run some tests, including bloodwork.
First you will have an A1C test, also called a glycated hemoglobin test. This blood test does not require fasting. It is used to show your average blood sugar level from the past few months. The test measures the percentage of blood sugar attached to your hemoglobin – red-blood – cells.
If you have an A1C level of 6.5 percent or higher could mean you have diabetes. In most cases, your healthcare provider will want you to have the test done more than once.
If you have an A1C level between 5.7 and 6.4 percent, you could have prediabetes. Again, your healthcare provider will want you to take the test more than once.
In some cases, more testing is needed to determine the level of your diabetes or prediabetes. Other tests that your doctor could order are:
Random blood sugar test: A small blood sample will be taken at a random time to show your blood sugar level.
Fasting blood sugar test: This test requires you to fast or not eat overnight prior to having blood tested. A fasting blood sugar level from 100 to 125 mg/dL could be prediabetes and a level of 126 mg/dL could mean diabetes.
Oral glucose tolerance test: For this test, you fast overnight and your blood sugar is measured. Then, you drink a sugary liquid and have blood sugar testing done over the course of two hours following the drink. This is similar to the testing done for those who are at risk for gestational diabetes.
If you have been recently diagnosed with diabetes, Beebe Diabetes Management can help: 302-645-3121. Ask your doctor to refer you to the program, which includes educational sessions, group support, and one-on-one guidance.
Researchers and doctors have been investigating ways to better control insulin and blood sugar as a way to improve the lives for the hundreds of thousands living with diabetes.
Beebe offers regular tips and information via our Diabetes emails. Sign up on the Health Hub.
Here are some articles that can help you live your best life with diabetes:
Beebe Diabetes Management offers many classes to learn about diabetes, including an Insulin Pump class, a Healthy Eating class, and more. Our scheduling team will verify your insurance information and work with you on options. Call 302-645-3121 to learn about upcoming classes.
The Diabetes Support Group is open to all diabetics and their caregivers. Due to COVID-19, the Diabetes Support Group meetings will be held virtually using the BlueJeans application. Participants may join using a computer, electronic tablet, or telephone. If you are interested in joining the support group, call 302-645-3121 or e-mail Ken Carson at [email protected] to request an e-mail invitation. The support group is open to anyone interested who is diagnosed with diabetes or who supports someone living with diabetes.
Join us! Beebe Diabetes Management offers regular diabetes education classes and support groups. Fill out the form below for more information. If you have any questions, call Beebe Diabetes Management: 302-645-3121.
Also - you may want to receive regular diabetes and health-related emails to help you on your health journey. Sign up on the Health Hub.
Any primary care provider can refer you to a diabetes education program. If you have been diagnosed with diabetes and your care provider is helping you manage your disease, you can ask them to refer you to Beebe Diabetes Management to participate in education programs.
When you are diagnosed with diabetes, talk to your care provider about changes you may want to make in your life. Ask your provider about diabetes education and diabetes support programs. Your provider can refer you to Beebe Diabetes Management.
When to ask:
At diagnosis or if you have never taken part in a diabetes education program
Every year
When it's harder to manage diabetes, such as:

Changes in access to food or money
When there are emotional factors (e.g. stress or anxiety)
When new health issues arise
When starting a new medication (e.g. insulin or steroids)
During changes in life, such as:

Change in living situation (e.g. divorce or death of a family member)
Getting new insurance coverage
---
Have questions about Beebe Diabetes Management?
Fill out the form below and we will send you more information.
---