There's An App for That: How Tech Helps You Manage Diabetes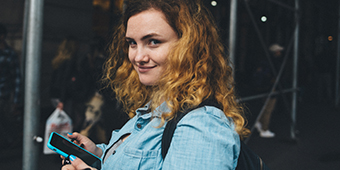 Whether you have type 1, type 2 or gestational diabetes, or you are simply concerned you might have prediabetes and develop diabetes, there's an app that can help you track your numbers.
When you think about all the numbers you have to know and track – A1C, glucose, glycemic index, blood pressure, weight – it can become really overwhelming.
Phone apps can help simplify the numbers you need to remember and put them all in one handy place.
Here are some of the top apps for diabetics:
Fooducate: Available on both iPhone and Android, this app helps support you in understanding which foods are best for keeping your blood sugar in a healthy range. You can scan or search for foods and see Fooducate's grade of its calorie quality.
BD Briight: Diabetes Assistant: Free on iPhone and Android, this app provides nutrition advice, healthy recipes, a digital diabetes assistant available 24/7, and voice recognition for logging insulin doses and blood sugar levels.
MyFitnessPal: Free tracking tool for exercise, nutrition, and more. With its partnership with Under Armour, there are many connected apps that together can form a powerful tool in helping you be your healthiest. This includes personalization, food database, community support, and goal management.
One Drop: A free app, this offers a tracking tool for blood glucose, mood, carbohydrates, medications, as well as a nutrition database, reminders, and reports.
My Net Diary Calorie Counter PRO: Available for $3.99, this calorie counter was made with diabetics in mind. It allows you to track all of your calories, but also has space to track A1C, blood pressure, medications, carbs, and more.
MySugr: The customizable dashboard on this app sends reminders to check your blood sugar at certain times during the day. It also creates charts based on your information, which you can share with your doctor.
BG Monitor Diabetes: This app is free, however it is only currently available on Android. It tracks your blood glucose, insulin, and carbs, as well as charts your trends and progress so you can make smarter choices for your health.
Health2Sync: This app brings your family into it. Do you and your husband both have diabetes, this might be the app for you. In addition to tracking your blood glucose and history, you can invite partners into the app for extra human encouragement.
Glucose Buddy: Have a Dexcom glucometer? This app connects directly to your glucometer so you can see a visual representation of the fluctuations in your blood sugar over time. It is free, however some features are only available if you subscribe.
Tidepool: This free app is compatible with many devices (glucose meters CGM devices, insulin pumps) and offers a tracking tool for insulin, CGM, nutrition, and blood glucose.
Are there apps you prefer that we missed on this list? Let us know about them! Send an email to [email protected].
Looking for additional support for your diabetes? Beebe's Population Health team offers regular in-person classes – Healthy Living with Diabetes. Find out more: 302-645-3337.
Beebe Diabetes Management & Medical Nutrition Therapy offers education, group support, and more. Talk to your doctor about getting a referral and then call 302-645-3121 to make an appointment.
---