Beebe Receives 'A' Safety Rating
Beebe Healthcare was awarded an 'A' in the fall 2019 Leapfrog Hospital Safety Grade, a national distinction recognizing Beebe's achievements in protecting patients from harm and providing safer healthcare.
The Leapfrog Group is an independent national watchdog organization driven by employers and other purchasers of healthcare committed to improving healthcare quality and safety for consumers and purchasers. The Safety Grade assigns an 'A', 'B', 'C', 'D' or 'F' grade to all general hospitals across the country based on their performance in preventing medical errors, injuries, accidents, infections, and other harms to patients in their care.
"Beebe Healthcare is laser-focused on providing safe, quality healthcare to our patients," said Rick Schaffner, Interim CEO, Executive Vice President, and Chief Operating Officer. "This Leapfrog grade is a testament to the incredible work of our team members and an organization-wide commitment to quality." 

The Fall Issue of Beacon is here
The fall issue of our Beacon magazine hits mailboxes and newsstands this week. The theme is Harvest and you can expect fall-themed recipes, discussions on wellness, connecting our community with healthy food, and more! Read the full issue or just check out the highlights.
Beacon is our quarterly health and wellness magazine. Learn more about Beebe Publications.
Announcing New Designs
for Margaret H. Rollins Lewes Campus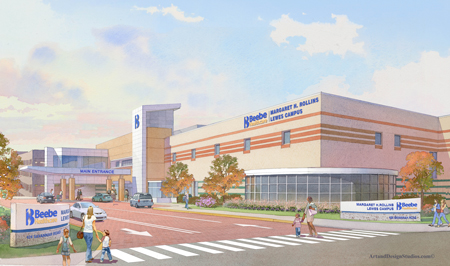 As construction continues at our multiple locations - South Coastal Health Campus near Millville, Specialty Surgical Hospital at Rehoboth Health Campus, and here at our Margaret H. Rollins Lewes Campus, we want to keep you in the know. Here are the recently released illustrations of the Lewes Campus and how it will look after construction is finished.
Neighbors caring for neighbors. Families caring for families. 
For more than 101 years, Beebe has been providing advanced, award-winning care, right here in Sussex County. 
Beebe Healthcare is thoughtfully investing in expanding our presence in Sussex County—making excellent, innovative, and accessible care a reality for our friends, families, and neighbors for future generations.