Your Partner in Weight Loss
The Beebe Center for Weight Loss Surgery is a place where our patients find a partner in their weight loss journey. Many patients have tried to treat obesity on their own with diet and exercise, and in some cases, have not had success losing the amount of weight they need to with diet and exercise alone. That is where our team comes in. We are here to help you.
If you have struggled with obesity and have been unable to lose weight on your own, you may be a candidate for bariatric surgery. Talk to your primary care provider about how you can be referred to Beebe's Center for Weight Loss Surgery.
Those who are interested in joining the practice for their life-changing surgery, can register for one of our free seminars/webinars for more information. set up a virtual consultation or get more information by requesting a consultation.
---
Beebe's Center for Weight Loss Surgery
Tarek Waked, MD, Board Certified General and Bariatric Surgeon leads Beebe Center for Weight Loss Surgery. He is joined by Christopher Manieri, DO, Board Certified General Surgeon, and Kim Hyatt, registered dietitian, who specializes in bariatric patient care.
They see patients at the Beebe Center for Weight Loss Surgery located at the Georgetown Health Campus at 21635 Biden Avenue, Suite 203, Georgetown, DE 19947. To make an appointment, call 302-260-7360.
---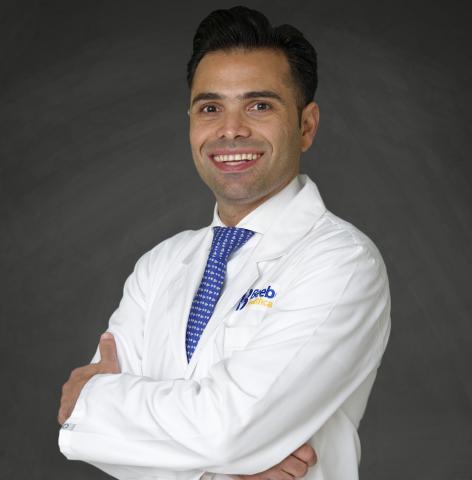 Get to Know Dr. Tarek Waked
Dr. Waked, MD, FACS, FASMBS, is a board certified general surgeon, specializing in advanced bariatric surgery. He completed his residency in general surgery at INOVA Fairfax Hospital in Virginia. During his years of training, Dr. Waked received multiple awards for his skills and knowledge in surgery.
Following his training in general surgery, Dr. Waked joined the Mayo Clinic in Minnesota where he completed a fellowship in minimally invasive and bariatric surgery. Mayo Clinic in Rochester has been at or near the top of U.S. hospitals throughout the history of U.S. News & World Report's "Best Hospitals" rankings. In addition to its No. 1 overall ranking, Mayo Clinic in Rochester has more No. 1 rankings in medical specialty areas than any other U.S. medical center.
Dr. Waked has performed more than 2,000 successful bariatric surgeries during his career and he is an expert in sleeve gastrectomy, gastric bypass and biliary-pancreatic diversion with duodenal switch procedures. He also performs revisional surgeries for sleeves and bypass as well as general surgery such minimally invasive colon surgery, hernia surgery, gallbladder surgery and anti-reflux surgery.
To make an appointment, call 302-260-7360.
---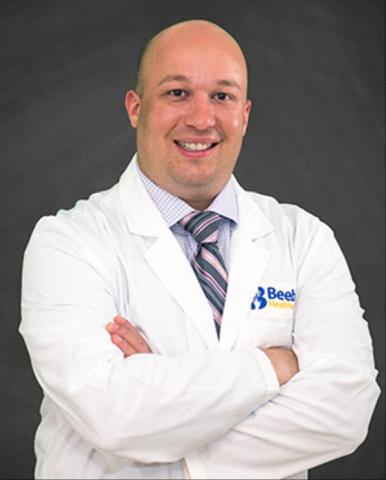 Get to Know Dr. Manieri
Dr. Manieri is a graduate of the Philadelphia College of Osteopathic Medicine. His post-graduate clinical training began at ChristianaCare Health System in Newark, Delaware, where he pursued a clinical rotation internship, before later completing a general surgical residency. Dr. Manieri's clinical training concluded with a bariatric and minimally invasive surgical fellowship at Inova Fair Oaks Hospital in Fairfax, Virginia.
He is a member of the American College of Surgeons, the American Society for Metabolic and Bariatric Surgery, and the Society of American Gastrointestinal and Endoscopic Surgeons.
Dr. Manieri practices at the Beebe Center for Weight Loss Surgery, located in Georgetown, as well as at the Beebe General Surgery Center, located in Lewes. Patients who opt to pursue bariatric surgery undergo an extensive planning and preparation process, often taking place over a period of several months. Following surgery, bariatric patients continue seeing their surgeon on a regular basis for approximately one year, and sometimes even longer. Dr. Manieri values the opportunity to build meaningful relationships and bond with his patients, as these processes take place.

To make an appointment, call 302-260-7360.
---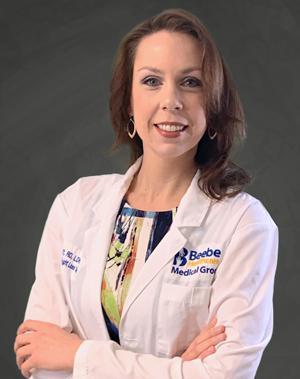 Get to Know Kimberly Hyatt, RD
Kimberly Hyatt, MPH, RD, LDN is a registered dietitian specializing in obesity medicine. She is a graduate of Indiana University of Pennsylvania, where she concurrently completed a Bachelor of Science in Dietetics and Bachelor of Arts in Psychology. She graduated with her Master of Public Health from University of Massachusetts at Amherst in 2021. She has been in practice since 2010, and has worked extensively in acute care, critical care, and community nutrition.  
She transitioned from an acute care hospital to bariatric medicine in 2016 when she began working with Dr. Waked. She is currently the program manager and registered dietitian for Beebe Center for Weight Loss Surgery. Kim is responsible for maintaining the facility accreditation through the Metabolic and Bariatric Surgery Accreditation and Quality Improvement Program (MBSAQIP). The MBSAQIP "works to advance safe, high-quality care for bariatric surgical patients through the accreditation of bariatric surgical centers. A bariatric surgical center achieves accreditation following a rigorous review process during which it proves that it can maintain certain physical resources, human resources, and standards of practice." 
Kim  guides bariatric patients through their pre and post-operative period, which includes classes, support groups, and addressing any questions or concerns that patients may have along their journey. She has a passion for teaching and behavioral modification leading to sustainable healthful habits. She believes a collaborative approach to care produces the most successful patient, which includes a strong surgical team, a well-defined program, and a committed patient. Kim values the connection that she makes with each patient and uses every appointment as an opportunity for learning and growth. Obesity is a complex disease with multiple social, genetic, and environmental factors that can affect one's weight. Kim understands these challenges and is dedicated to the success of each individual patient. 
To make an appointment, call 302-260-7360.
---
Types of Bariatric Surgery Performed at Beebe
Bariatric surgery makes changes to your digestive system to help you achieve long-term weight loss. Dr. Waked and his team specialize in minimally invasive weight loss procedures.
They perform the following weight loss surgical procedures:
Gastric sleeve: In this procedure, part of the stomach is removed to make it smaller and reduce your meal size. The part that is removed contains hormones that make you hungry. Consequently, after surgery, most patients have appetite suppression. This surgery takes approximately 30-45 minutes.
Gastric bypass surgery: In gastric bypass (Roux-en-Y gastric bypass), the surgeon creates a small pouch at the top of your stomach. The small intestine is then rerouted to decrease the amount of calories you can absorb.
Biliopancreatic diversion with duodenal switch: This procedure begins with the surgeon performing a sleeve gastrectomy and then rerouting the small bowel to decrease the amount of calories absorbed. This procedure is typically offered to patients with BMI of 50 or more. It is also offered to patients with BMI of 35 or more and history of sleeve gastrectomy,
Revision surgery: We offer revision surgery for sleeve and gastric bypass patients to help with more weight loss or to treat heartburn/reflux after surgery.
We'll discuss these procedures in further detail during your consultation. Together, you and your surgeon will determine which procedure is the best option for you.
---
Commonly Asked Questions About Weight Loss Surgery
Beebe's Center for Weight Loss Surgery is here with you every step of the way. Please review frequently asked questions to learn more about bariatric surgery. If you decide to have weight loss surgery at Beebe, you will have your pre- and post-surgery appointments in our Georgetown office before and after surgery.     
Your surgery will be performed by our advanced surgery team at the Margaret H. Rollins Lewes Campus located in Lewes, Delaware.
Obesity is a major health crisis in our country. There are several obesity-related health conditions that are associated with obesity. These conditions often lead to a decreased quality of health and life of those affected. Below you will find a list of obesity-related conditions. It is important to talk with your doctor about these conditions.
Cancer: Recent studies suggest that those with a BMI more than 40 (severe obesity) had death rates from cancer that were 52% higher for men and 62 % higher for women, as compared to rates for normal-weight men and women. In both men and women, higher BMI is associated with higher death rates from cancers of the esophagus, colon and rectum, liver, gallbladder, pancreas, and kidney. The same trend applies to cancers of the stomach and prostate in men, and cancers of the breast, uterus, cervix, and ovaries in women.
Diabetes: Diabetes is a life-long disease marked by high levels of sugar in the blood. Among those diagnosed with type 2 diabetes, 67 percent have a BMI greater than 27 and 46 percent have a BMI greater than 30.
Gallbladder Disease
Heartburn
Heart Disease
High Cholesterol
High Blood Pressure
Osteoarthritis or Joint disease
Depression: Depression may be described as feeling sad, blue, unhappy, miserable, or down in the dumps. Most of us feel this way at one time or another for short periods. True clinical depression is a mood disorder in which feelings of sadness, loss, anger, or frustration interfere with everyday life for an extended time.
Sleep Apnea: Sleep apnea is a condition characterized by episodes of stopped breathing during sleep.
Stroke: A stroke occurs when a blood vessel (artery) that supplies blood to the brain bursts or is blocked by a blood clot. Within minutes, the nerve cells in that area of the brain are damaged, and they may die within a few hours. As a result, the part of the body controlled by the damaged section of the brain cannot function properly.
Weight-loss surgery for obesity may be considered if you have tried other methods to lose weight that haven't worked and:

You have BMI of 40 or higher
Your BMI is 35 to 39.9, and you also have a weight-related health problem, such as diabetes, high cholesterol, fatty liver disease, sleep apnea or high blood pressure
You're committed to making the lifestyle changes that are necessary for surgery to work
Age 18-69
Many patients with obesity have tried to treat this on their own, with diet and exercise. Many have had some success, only to have weight regain. More often, patients have little to no success with diet and exercise alone. This is not a result of lack of willpower or the wrong diet.
When a patient has a BMI> 35, their chances of reaching a normal body weight for a lasting period of time is less than 1%. That's why surgery is an option for patients with severe obesity. Unfortunately, many patients who could benefit from surgery don't know if surgery is right for them.
Weight loss surgery does not just treat the disease of obesity, but it treats other conditions like diabetes, heart disease, high blood pressure, arthritis, high cholesterol, sleep apnea, and acid reflux. In addition, surgery greatly reduces the risk of death from cancer, diabetes, heart disease, and other diseases.
Weight loss surgery, causes changes in appetite, satiety (feeling full), and metabolism (how the body burns calories). Many of the hormonal signals that cause weight gain or inability to lose weight are affected by these procedures, and it becomes easier to lose weight.
Around 90% of patients after bariatric surgery lose 50% of excess body weight and keep this extra weight off long-term. 
When patients start to lose weight after surgery, they also feel more energetic, less pain, and more enthusiasm for doing things they have not done in years. The significant and rapid weight loss after surgery can lead to changes in hormones and lead to even more weight loss.
Most surgeries are performed with half inch incisions (Laparoscopically or robotically) which results in less pain and faster recovery.
Patients spend 1-2 nights in the hospital and may return to work within 1-2 weeks. Some patients may be able to go home the same day of the surgery. Patients will be able to resume most daily activities by the time they are discharged from the hospital.
---
INTERESTED IN BARIATRIC SURGERY AT BEEBE?
Our free seminars are the best way to learn about surgical options and other options for long-term weight loss. Following a seminar, our team will help you schedule a consultation with our bariatric surgery team. Fill out an interest form below, and a member of our team will be in touch shortly to register you for a seminar that best suits your schedule.
---