Don't Wait, Cancer Doesn't: Screenings Save Lives Every Year
Image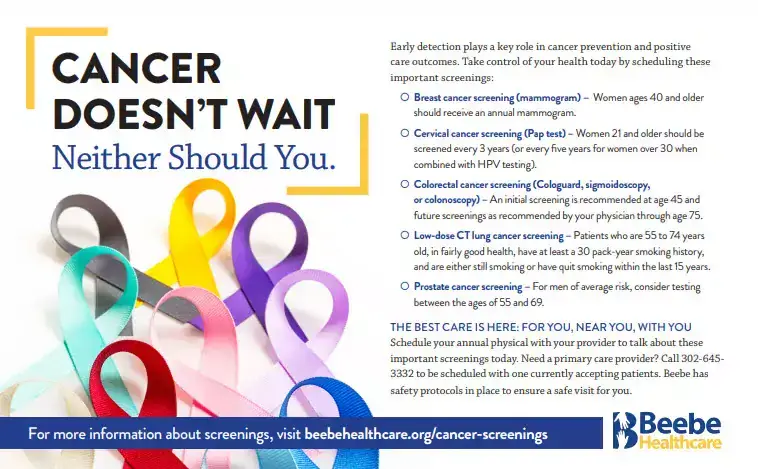 Routine screenings save lives every year.
Cindy Beaver knows this. Her 3D mammogram in 2015 revealed a very small spot that only the 3D mammogram would have caught so early.
After biopsy, surgery, and radiation under the great care of Beebe Oncology Services, Cindy rang the bell and became an advocate for screenings and the 3D mammogram that made such a difference in her cancer treatment.
Every woman who is 40 years or older and is in good health should have a mammogram every year. It's important because it allows you the opportunity to find a cancer when it is still small before you're able to feel it – like it did for Cindy.
Multiple large, well-done studies show that having a mammogram every year reduces risk of dying of breast cancer by 25 percent, and women need to know that mammography saves lives.   
Delaware was a major player in the history of screening mammography. Between 1974 and 1979, Delaware was one of 29 sites nationwide participating in the Breast Cancer Detection Demonstration Project (DCDDP). 283,222 women between ages 35 and 74 were screened with both physical exam and two-view mammography, for five years. This was the study that proved that breast cancer screening was feasible and that it found cancers earlier and saved lives!
A few women express concerns about radiation exposure in mammography, but you should know the exposure is minimal, and safe. Actually, it's 1/100 of the maximum allowable radiation dose for a person each year.
Cancer screening is not only about breast cancer and mammograms – there are numerous screenings available to patients that can detect abnormalities, cancers, or other illnesses before they become life-threatening.
We've reached out to collaborate with specialists throughout Beebe Medical Group to share other important screening information.
Low-dose CT scans more effective, lower risks
The history of cancer screening specifically in Delaware has a very focused history. First, the premise of screening is early detection and potential prevention, says James Spellman, MD, FACS, Surgical Oncologist and Chief of Surgery at Beebe Healthcare.
He says screening has the goal of detecting disease at an early stage or pre-malignant stage where less dramatic treatments can be initiated, and morbidity and mortality can be lessened or avoided. This has the added benefit of being less costly and helps us steward limited resources.
One important screening that saves lives every year is the low-dose CT scan. Lung cancer remains the second most common cancer, and, the leading cause of cancer death in US. Results from the National Lung Screening Trial (NLST) showed that those who received low-dose CT scans had a 20 percent lower risk of dying from lung cancer than those who received standard chests X-rays.
There are two main risk factors for lung cancer: smoking and increasing age," says Srujitha Murukutla, MD, Medical Oncologist with Beebe Oncology Services.
"Low-dose CT screening is recommended for high risk individuals, which includes ages 50 to 80 years with a 20 pack-year history of smoking and current smoker or quit within past 15 years," Dr. Murukutla says. "Discuss the benefits and risks of lung cancer screening with your doctor, working together with your doctor will help you decide whether screening is right for you."
Enjoy the Sun, but not Skin Cancer
Living at the beach, another important screening to consider is for skin cancer. Dr. Spellman also explained that screening efforts date back years with proven studies of effectiveness.
"During a 1980's Italian study, a screening effort was initiated for melanoma in one specific province but not in three surrounding provinces. The outcomes were dramatic. The province hosting the screening campaign saw a reduction in advanced melanoma, more years of life saved, and less treatment costs per year of life saved," Dr. Spellman says.
Have a spot that you are concerned about? Talk to your primary care provider about a referral to a dermatologist or an oncologist to get a skin screening.
Colonoscopies: Detecting Problems before Cancer
Colon cancer or colorectal cancer is the third most common cancer with more than 95,000 new cases each year in the United States. As with most cancers, the key to beating colorectal cancer is catching it early.
"That's why it makes so much sense to not skip a screening," says Mark Wilkinson, MD, of Beebe Gastroenterology Associations. "If you are over the age of 50, a screening colonoscopy is the best way to detect cancer early. Most colon cancers start as a polyp and take years to develop into cancer."
Jesus Esquivel, MD, specializes in gastrointestinal cancer as a surgical oncologist at Beebe Surgical Oncology.
He agrees with Dr. Wilkinson: "Most colon cancers are preventable. The only thing better than curing is preventing," says Dr. Esquivel.
The Delaware Cancer Consortium began a screening campaign some 20 years ago focusing on prostate cancer and colorectal cancer, says Dr. Spellman. Among the many reasons for such an effort was data that suggested racial and socio-economic disparities in who was being screened with results showing worse outcomes for the at-risk populations.
"The result of the campaign was that Delaware became the only state in the union to completely eradicate racial disparities in their screened populations," he says. "Delaware's efforts also resulted in a more dramatic reduction in the incidence of colorectal cancer than any other state, and a more dramatic reduction in colorectal mortality than any other state. Delaware is still recognized nationally as a model for colorectal screening."
Don't Miss Your Annual Well-Woman Exam
This year, it is estimated that there will be more than 14,000 women diagnosed with cervical cancer – many of them are between the ages of 35 and 55.
When diagnosed early, cervical cancer is curable and patients have an excellent chance of recovery, says Roseanne Gichuru, DO, MBA, FACOOG, Medical Director for Beebe Women's Health.
Cervical cancer screening is testing that is performed on cells collected from the cervix and checks for abnormal or cancer cells. These abnormal cervical cells develop after cervical cells become infected with the human papilloma virus (HPV). The test performed is called a pap smear test and is generally collected from women beginning the age of 21.
There are two types of pap smears:
Cytology testing – is performed on women between the ages of 21 -29 and checks for abnormal cervical cells only.
Co-testing – is performed on women 30 years old and above and it checks for both abnormal cervical cells and the human papilloma virus (HPV).
The frequency of pap smear testing is every three years for women in the 21-29 age group and every five years for women age 30 and older. Your healthcare clinician may change the frequency of screening based on your health history.
"The pap smear is a quick office procedure," Dr. Gichuru says. "Your clinician has your comfort and health in mind during the procedure. Don't hesitate to ask questions. Do not miss out on your annual well-woman visit – it saves lives every year."
So don't wait: Beebe Healthcare and healthcare providers across the state have reinvigorated their efforts by teaming up with the Delaware Department of Health to reassure the public that proper safety measures reduce the risk of COVID-19 during screenings and that the return to routine testing in the outpatient sector is safe and should be resumed by all.
---