Deb Brown: Prediabetes was my wake-up call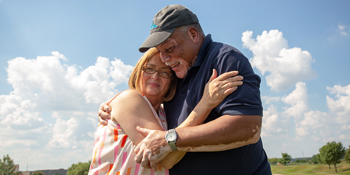 With a family history of diabetes, Deb Brown has always been conscious of staying active and eating a healthy diet. She recently found out she was among the 84 million Americans with prediabetes.
When she and husband, Milton, moved to Delaware in 2015, Deb slowed down a bit. She noticed she was spending more time on the couch and eating sweet treats more often than she ever did when she was working full-time for the Seventh Day Adventist Church in Pennsylvania.
She noticed her weight was creeping up and at the same time she didn't have as much energy as she once did. She knew the combination of less activity and higher weight could lead her down a scary road. Learn more about your weight and diabetes.
"I noticed I was feeling more sluggish, and I felt like I was thirsty all of the time," Deb says. "My daughter passed away from complications from diabetes, and my husband, Milton, has diabetes, so I thought that could be what was going on." Deb's annual bloodwork showed an elevated A1C—the percentage of your red blood cells that are coated with sugar. Deb's levels fell in the prediabetes range.
"As soon as I got those results, I said to myself, I need to make some changes," Deb says. She joined a water aerobics class and exercise group and now exercises four to five times each week. "I'm 73, and I walk regularly. There are many activity groups in my community at Heritage Shores to choose from, so I make an effort to be active every day," Deb says.
She also focused on improving her eating habits. "I was always good about eating a healthy diet, but I have a sweet tooth, too," she says. "I tell people it's all about being intentional."
Deb and Milton both talk openly with friends and family about diabetes and prediabetes.
"We tell people to have their blood sugar tested. Don't wait because you can catch it early if you start making changes," Deb said.
Help Now Can Prevent Diabetes Later
Type 2 diabetes is a chronic condition that can be prevented by managing and reversing prediabetes with lifestyle changes. Those with prediabetes and diabetes have a higher risk for infections, nerve damage that can cause tingling and pain in the hands and feet, and risk of limb loss due to circulatory problems.
If you are concerned that you may be among the 1 in 3 Americans with prediabetes, talk to your physician about being tested.
Beebe Diabetes Management offers a Diabetes Support Group and one-on-one meetings with a dietitian and registered nurse educator.
Virtual visits and telehealth visits over a secure video call are available.
Due to COVID-19, the Diabetes Support Group meetings will be held virtually using the BlueJeans application. Participants may join using a computer, electronic tablet, or telephone. If you are interested in joining the support group, call 302-645-3121 or e-mail Ken Carson at [email protected] to request an e-mail invitation. The support group is open to anyone interested who is diagnosed with diabetes or who supports someone living with diabetes.
Beebe Endocrinology sees patients in Lewes and Millsboro. For more information on the practice or to make an appointment, call 302-648-7999 or go to www.beebehealthcare.org/endocrinology.
If you have more than 100 pounds to lose, bariatric surgery might be an option. If you are interested in bariatric surgery and have questions, the Bariatric Wellness Coordinator can help. Fill out the form here. Call our bariatric surgery specialists at 302-703-3630. Learn more: Bariatric Surgery at Beebe.
---