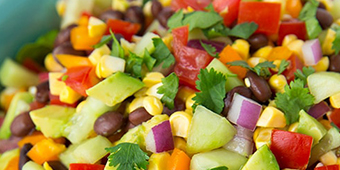 It's fresh, tasty, & healthy - what more could you want in a lunch or dinner?!
Ingredients
Servings: 6
Prep Time: 25 minutes
1 head romaine lettuce , chopped
2 ears corn (raw), kernels cut from cob
4 mini orange peppers (or 1 large) , diced
4 roma tomatoes , diced
1 cucumber , peeled and diced
1/2 medium red onion , chopped
2 avocados (ripe but still slightly firm), diced
1 can black beans , drained and rinsed
Tortilla strips , optional (recipe here
Lime Cilantro Dressing:
1 cup Plain Greek Yogurt (I used whole)
2 Tbsp mayonnaise (I used full fat)
6 Tbsp milk (more or less as desired)
1/2 cup packed cilantro , very finely chopped
1 clove garlic , minced
1/2 tsp onion powder
1/4 tsp cumin
2 - 3 pinches cayenne pepper
Salt and freshly ground black pepper , to taste
2 Tbsp fresh lime juice
Instructions
Make the salad: Toss all salad ingredients together in a bowl.
Make the Greek Yogurt Cilantro Lime Ranch: Add all dressing ingredients to a mixing bowl then whisk until combined, add more milk/lime juice if desired for a thinner consistency. Store in an airtight container in refrigerator.
Plate salad, then top with tortilla strips and Cilantro Lime Ranch.
Notes:
Wait to drizzle on the salad dressing until you're ready to serve this salad. This salad stores great without the dressing.
Recipe Source: Salad portion adapted slightly from The Cafe Sucre Farine, dressing by Cooking Classy
---