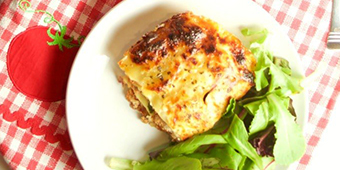 Everyone remembers mom's or grandmom's famously delicious homemade lasagna. It was so comforting that it may have put you in a food coma!
When your belly calls for comfort food, turn to this healthier version instead! It can be made with or without the meat and will make you feel like you are home again.
Ingredients You Will Need:
1 1/2 lbs ground turkey breast
1 large onion chopped
2 cloves garlic minced
28 oz can of crushed tomatoes with NO SALT ADDED
3-4 leaves basil chopped
1 teaspoon dried oregano
9 sheets of Whole Wheat Lasagna Noodles
15 oz fat-free ricotta cheese
1 egg
2 cups part skim mozzarella cheese shredded
2 teaspoons olive oil
Salt + Pepper
Instructions
Preheat oven to 350 degrees Fahrenheit
Cook noodles according to package instructions*
Drain and place in cold water to stop the cooking process
In a large skillet, heat the olive oil
Add the onions and saute until softened
Add garlic, 1/2 teaspoon of oregano and half of the basil
Add the ground turkey and cook while breaking up the big pieces into little ones
Drain excess liquid and add salt and pepper
Add the tomatoes and cook until the mixture starts boiling. Remove from heat
In another bowl, mix the ricotta cheese, egg, salt, pepper and the other half of the basil
Drain noodles
Place 3 noodles in a 9x13" rectangular baking pan in a way they cover the bottom of the pan
Add 1/2 of the turkey mixture. Spread evenly
Add 1/2 of the ricotta mixture. Spread evenly
Sprinkle some cheese
Cover with 3 more lasagna noodles
Spread the remaining turkey mixture
Spread the remaining ricotta mixture
Sprinkle some more cheese
Cover with 3 more lasagna noodles
Sprinkle with remaining cheese and dried oregano
Spray a piece of aluminum foil with nonstick spray
Cover lasagna with foil
Bake covered for 45 minutes
Remove foil and bake for 10 minutes
Broil for 2 more minutes or until the top is brown
Remove from oven and let it rest for about 10 minutes before serving
Enjoy!
Notes:
There are many dairy-free cheese alternatives that could be used in place of the dairy in this recipe.
Gluten-free pasta may also be used - just be sure to follow the directions on the packaging.
Add more veggie power: Mix fresh or frozen spinach or kale into the suace of this dish for added nutrition
---