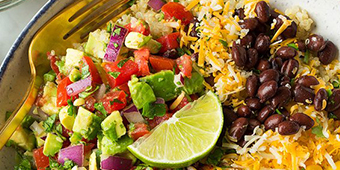 When you get that craving for some good Mexican food, avoid the heavy sauces and whip up this healthy burrito bowl at home!
Ingredients
For the quinoa and chicken burrito bowl, you'll need:
Quinoa
Chicken broth
Spices (chili powder, cumin, garlic powder)
Salt and pepper
Chicken breasts
Olive oil
Frozen corn
Black beans
Shredded cheese
Greek yogurt or sour cream
And for the avocado salsa, you'll need:
Tomatoes
Avocados
Red onion
Jalapeño
Garlic
Lime juice
Olive oil
Cilantro
Instructions
Cook the quinoa.
Preheat grill. Season and grill the chicken. Let rest 5 minutes before cutting.
Make avocado salsa while the chicken is resting.
Divide quinoa among 5 serving bowls. Top with chicken, corn, black beans, cheese, avocado salsa and Greek yogurt.
Can I Prep These Burrito Bowls in Advance?
Everything but the avocado salsa can be prepped in advance. These chicken quinoa protein bowls are easily meal prepped and keep for a few days if stored in an airtight container.
Can I Use Chicken Thighs for This Recipe?
Of course! Just note that the grilling time may be different than what the recipe states.
Tips for the Best Burrito Bowl
Substitute quinoa with brown rice or cauliflower rice if desired.
To pick good avocados, they should be fairly firm and not mushy. They should also be free of bruises or marks.
Try these chicken burrito bowls with grilled fresh corn too!
---