What Can I Eat to Help Control Diabetes Symptoms?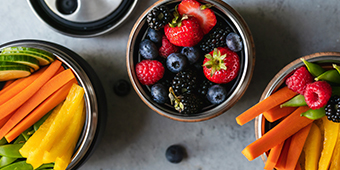 Researchers and doctors have been investigating ways to better control insulin and blood sugar as a way to improve the lives for the hundreds of thousands living with diabetes.
A number of foods have found to be beneficial when added to a healthy diabetic diet:
Beans, which are high in fiber and help keep you full longer
Cinnamon, which has been shown to stabilize blood sugars and has antioxidant properties
Turmeric, which has antioxidant and anti-inflammatory properties
Garlic, which has anti-inflammatory properties and has been shown to improve blood sugar levels
Eggs (for those without heart or cholesterol issues)
Chia seeds and flax seeds, an easily digestible fiber shown to stabilize blood sugar
Nuts such as walnuts, pistachios, almonds, and cashews
Broccoli, green beans, and other green vegetables
Berries, including blueberries and strawberries
Shirataki noodles have many benefits for diabetes management and weight control. The noodles are high in fiber and glucomannan, which is extracted from the konjac root. This fiber helps you feel full and satisfied longer while lowering the 'hunger hormone,' ghrelin
Apple cider vinegar, which has been shown to improve insulin sensitivity and lower fasting blood sugar levels, and may also reduce blood sugar response by as much as 20% when consumed with meals containing carbs.
Certified diabetic educators and registered dietitians such as those with Beebe Diabetes Management and Beebe Endocrinology can help you develop diabetic meal plans.
By eating a healthy diet, exercising regularly, lowering stress, and working with your healthcare team, you will be able to control your blood sugar and better manage your diabetes.
Beebe Diabetes Management offers a Healthy Eating class, which is free to the public. Call 302-645-3121 to learn about the next class.
Also offered is an annual refresher class for diabetics. If you feel you need to get back on track, this is the class for you. Talk to your doctor and get a referral, then call Beebe Diabetes Management to register for the next class: 302-645-3121.
---