Beebe Healthcare Cardiovascular Team Completes 100th WATCHMAN Heart Procedure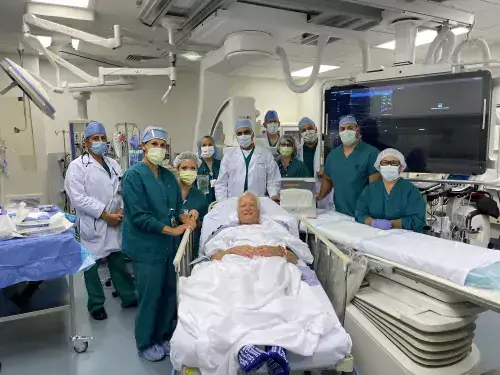 Beebe Healthcare's Cardiovascular team recently completed its 100th WATCHMAN procedure at the Margaret H. Rollins Lewes Campus. 
This multidisciplinary approach improves the health of those with atrial fibrillation (AFib). Beebe's multidisciplinary team consists of interventional cardiologists, electrophysiologists, echocardiographers, cardiac anesthesiologists, and cardiology physicians and care providers. 
"Beebe's Structural Heart Program has been rapidly evolving during the last few years. It relies on a shared decision-making process between multidisciplinary clinical team that has helped us push forward to add more catheter based/noninvasive procedures that help our community without the need for major open-heart surgery," said Ehtasham Qureshi, MD, Interventional Cardiologist at Beebe Healthcare. 
One of these procedures is the WATCHMAN, which is a device used as an alternative to the lifelong use of blood thinners for people with atrial fibrillation not caused by a heart valve problem. 
It is estimated that millions of Americans are affected by AFib – an irregular heartbeat that feels like a quivering heart. People with AFib have a five times greater risk of stroke than those with normal heart rhythms. 
The WATCHMAN device closes off an area of the heart called the left atrial appendage (LAA) to keep harmful blood clots that can form in the LAA from entering the blood stream and potentially causing a stroke. By closing off the LAA, the risk of stroke may be reduced, and over time, patients may be able to stop taking blood thinners. More than 150,000 people have left blood thinners behind with WATCHMAN.
"We are so proud of the various colleagues who have helped grow this program and provide innovative, safe programs for the community," Mouhanad Freih, MD, Interventional Cardiologist at Beebe Healthcare. "Beebe is providing services so that patients can receive the highest level of care right here in Sussex County."
---