Beebe Healthcare Presents Tips for Lower Back Pain and Physical Therapy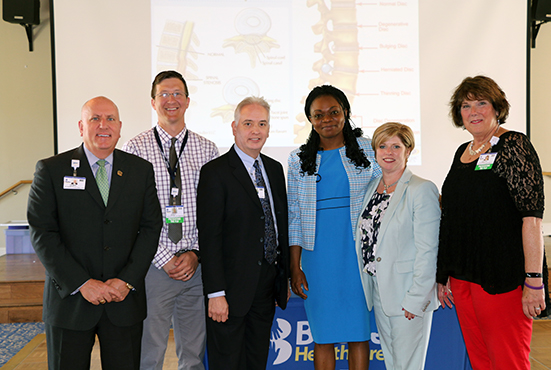 On Wednesday, May 22, Abimbola Afolabi, MD, spine surgeon with Orthopaedic Associates of Southern Delaware, and Joseph Skocypec, Director for Clinical Operations for Beebe Physical Rehabilitation Services, spoke to about 35 residents at the Independence Community Clubhouse in Millsboro. Participants learned about Beebe Healthcare's Orthopaedic Services, as well as the pre- and post-surgery physical therapy services available at multiple locations throughout Sussex County.
Dr. Afolabi, discussed non-surgical treatment methods for managing lower back pain.
Skocypec shared information about physical therapy being a key part of Beebe's continuum of care – meaning the vast array of health services available for the community both during illness and in health.
Beebe's physical therapists offer personalized, positive healing programs to help patients regain mobility and freedom, so they can fully enjoy their lives.
Shown (left to right) are Tom Protack, Vice President of Development, Beebe Medical Foundation; Joseph Skocypec, Director of Clinical Operations for Physical Rehabilitation, Beebe Healthcare; Joseph DeRanieri, Ph.D., Executive Director of Orthopaedic Services, Beebe Healthcare; Abimbola Afolabi, MD, of Orthopaedic Associates of Southern Delaware; Amanda Townsend, Practice Manager, Orthopaedic Associates of Southern Delaware; and Lauren Walsh, Physician Liaison, Beebe Healthcare.
---