Beebe Healthcare Welcomes Psychiatrist David Yunis, MD, to Behavioral Health Services Team
Image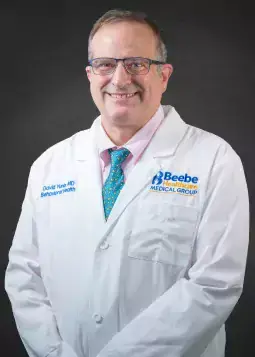 Beebe Healthcare is pleased to announce the appointment of David Yunis, MD, a board-certified psychiatrist, to Beebe Medical Group. Dr. Yunis practices at Beebe Behavioral Health in Lewes and provides outpatient care for adults with a wide range of mental health concerns.
Prior to joining Beebe, Dr. Yunis served as a staff psychiatrist at Horizon House's Assertive Community Treatment Team in Georgetown, Delaware. Earlier in his career, he worked as a staff psychiatrist at the Delaware Department of Correction.
Dr. Yunis is a graduate of Rosalind Franklin University's Chicago Medical School and completed a residency in psychiatry at Boston University. He also holds a master's degree from Harvard University and a bachelor's degree from the University of Massachusetts at Amherst. Dr. Yunis is a member of the American Psychiatric Association and of the Psychiatric Society of Delaware.
"I am committed to building rapport with each patient," Dr. Yunis said. "I have a vested interest in community-based medicine and am excited to be part of an organization that is growing its behavioral health services based on community needs."
He joins Leonard Lev, MD, and Jennifer Yoon, MD, at Beebe Behavioral Health at 33664 Bayview Medical Drive in Lewes. Dr. Yunis is married and has two teenage children. He spends his free time traveling, visiting local beaches and restaurants, playing pool, and cooking. He is especially skilled in preparation of unique international dishes and homemade pizza.
---