Gastroenterologist Heather Barton, MD, Joins Beebe Medical Group  
Image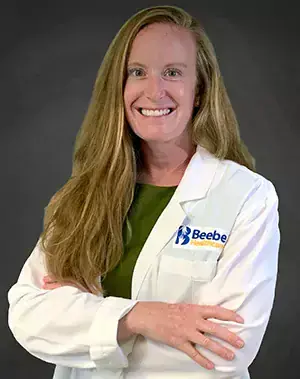 Beebe Medical Group and Beebe Healthcare welcome Heather Barton, MD, to Beebe Gastroenterology Associates. She sees patients in Lewes and Millville.
Dr. Barton is board certified in internal medicine and gastroenterology. Call 302-645-3332 to schedule an appointment. 
"Beebe Healthcare is working every day to create an integrated healthcare delivery system to provide Sussex County with advanced quality care," said David A. Tam, MD, MBA, FACHE, President & CEO, Beebe Healthcare. "Doctors from near and far are choosing to work at Beebe Healthcare. These providers – along with our local physician and provider partners in our region – recognize our commitment to excellent care and the transformative work we are doing to support our growing community. Together, we will provide outstanding care and create the great community health system our families deserve."  
Dr. Barton received her medical degree from Eastern Virginia Medical School and completed an internal medicine residency and gastroenterology fellowship at the Medical University of South Carolina in Charleston. 
She focuses on gastroenterology, including inflammatory bowel disease, liver disease and issues that are specific to women and the GI tract. She is employed by Beebe Medical Group and is a member of Beebe Healthcare's Medical Staff. 
"Growing up in Salisbury, small communities like Sussex County are what I am used to and want to continue to be a part of," said Dr. Barton. "During my training, I developed a sense of what it means to be a part of a bigger GI medical community with the ability to have colleagues to work with and to collaborate with on projects aimed to improve community education and access to the improve overall and gastrointestinal health. I am also excited for the opportunities Beebe brings with their satellite clinics across Sussex County." 
Dr. Barton is one of more than 60 new providers in the last year who have joined Beebe Medical Group, which includes 20-plus specialty offices in more than 40 office locations throughout Sussex County. When patients see providers that are within the Beebe Medical Group, they enjoy the experience of seamless electronic medical correspondence between office visits, outpatient facilities and the hospital.
Practices include the specialties of: Cardiothoracic Surgery, Dermatology, Endocrinology, Family Medicine, Gastroenterology, General and Bariatric Surgery, Hospital Medicine, Infectious Diseases and Travel Medicine, Internal Medicine, Pediatric Neurology, Pulmonary & Sleep Disorders, Surgical Oncology, Urology, and Women's Healthcare. 
Four Walk-in Care Centers serve the community in Rehoboth Beach, Georgetown, Millsboro, and Millville from 9 a.m. to 7 p.m. daily. The group also operates three school-based health centers at Cape Henlopen High School, Sussex Central, and Indian River High School. 
Learn more about Beebe gastroenterology services: beebehealthcare.org/services/gastroenterology. 
---