Two Primary Care Providers Join Beebe Family Practice – Beacon in Rehoboth
Image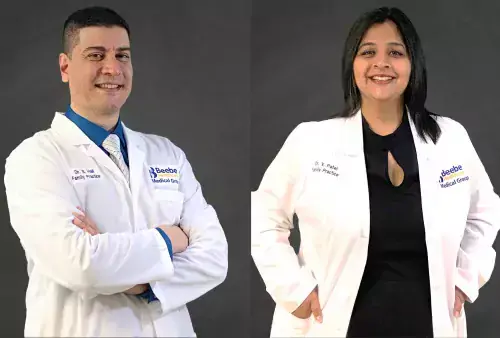 Beebe Medical Group welcomes Sameh Hall, MD, and Videhi Patel, MD, to Beebe Family Practice – Beacon in Rehoboth Beach.
Located at 18947 John J. Williams Highway, call 302-645-3332 to schedule an appointment with Drs. Hall and Patel.
"Sussex County and Beebe Healthcare are growing together, and its Beebe Medical Group's goal to create more access to primary care physicians, that's why we are excited to announce Drs. Sameh Hall and Videhi Patel have joined Beebe Medical Group," said Bobby Gulab, Senior Vice President, Chief Medical Officer, Beebe Medical Group. "Please join me in welcoming them to Sussex County. I know they are excited to start seeing patients and serve the community."
Dr. Hall completed his residency at St. Luke's University Health Network in Bethlehem, Pennsylvania, after receiving his medical degree from the Aureus University School of Medicine in Aruba. Dr. Hall also has a bachelor's in chemical engineering and wrote a thesis in environmental sciences focusing on pollution reduction.
"What drew me to Beebe and the area was a true sense of community and a genuinely warm and supportive environment," Dr. Hall said. The transition for my family and I was effortless, and we felt right at home. I enjoy sharing my passion for preventive medicine with my patients and consider a healthy lifestyle an integral part of any therapeutic plan."
Dr. Patel received her medical degree from the American University of Antigua School of Medicine. After completing her residency at the Williamsport Family Medicine Residency Center, Dr. Patel joined Nazareth Family Practice of the St. Luke's Physician Group before joining Beebe.
"I decided to join Beebe because of their unwavering dedication to service and genuine sense of camaraderie," Dr. Patel said. "I am excited about continuing to provide evidence-based medicine to patients of all ages."
Beebe Family Practice – Beacon is a part of Beebe Medical Group, which includes 20-plus specialty offices in more than 40 office locations throughout Sussex County. When patients see providers that are within the Beebe Medical Group, they enjoy the experience of seamless electronic medical correspondence between office visits, outpatient facilities and the hospital.
Practices include the specialties of: Cardiothoracic Surgery, Dermatology, Endocrinology, Family Medicine, Gastroenterology, General and Bariatric Surgery, Hospital Medicine, Infectious Diseases and Travel Medicine, Internal Medicine, Pediatric Neurology, Pulmonary & Sleep Disorders, Surgical Oncology, Urology, Vascular Surgery and Women's Healthcare.
Four Walk-in Care Centers serve the community in Rehoboth Beach, Georgetown, Millsboro, and Millville from 9 a.m. to 7 p.m. daily. The group also operates three school-based health centers at Cape Henlopen High School, Sussex Central, and Indian River High School.
---