Celebrating Katie Skibinski, PA, and an Excellent Healthcare System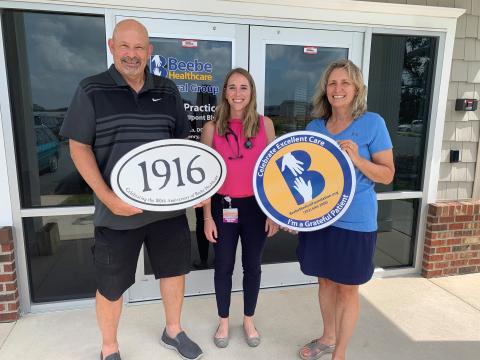 By Debra and Kenneth Karpinski
Five years ago, we moved to the Delaware beaches from New Jersey. We had a second home here, and we knew and loved the area.
Like many people who move here, we began to seek out new doctors and turned to Beebe Healthcare.
Over the past 10 years or so, we have seen so many wonderful changes at Beebe. We have witnessed the growth, improved access, and breath of services offered.
From our own personal experiences, everyone at Beebe - from the phone navigators, to the front desk employees, to the doctors, nurses and practitioners - has been so helpful and friendly.
Debra was introduced to Katie Skibinski, PA, of Beebe Family Practice Millsboro Dupont Blvd for Primary Care. Soon after, Ken started to see her as well. Katie is a true professional who truly listens and cares. We love her. Her whole team is wonderful, and they are deeply rooted in the community.
There is a warm and welcome spirit every time we go into a Beebe practice. We have been thrilled that with each new service provider or practitioner we use, the experience has been excellent. From OB/GYN (Emily Preston) care, to physical therapy (Tessa Gilson), to walk-in care that was needed when we experience COVID firsthand, Beebe has always been there for us. The staff are all so positive and upbeat, and the facilities are very updated.
Katie and all the other doctors we see at Beebe are a large part of the reason why we became donors to Beebe Medical Foundation as well. Also, we have been so impressed by the leadership of Dr. David Tam. We joined the 1916 Club as a direct result of the care we have received and Dr. Tam's leadership.
From the first virtual town hall he hosted in March of 2020, Dr. Tam has done an excellent job of keeping the community informed about COVID 19. We appreciate receiving important information and updates via email. Because of these communications, we were able to receive our COVID vaccinations quickly and efficiently. On town hall broadcasts, Dr. Tam has been honest, genuine and informative as he leads Beebe and the community through the pandemic. We think he is a rock star.
We are so thankful to have a strong, local community healthcare system, especially during this pandemic. We appreciate having this type of localized, informative communication available from our local healthcare systems.
We are more and more impressed with each experience at Beebe and wanted to share our story with others who might be new to the area.
When we relocated here, we were hesitant to transition our healthcare needs. But we couldn't be happier to have made the leap to Beebe and wish we had done so sooner.
As a community-based, not-for-profit healthcare system, Beebe Healthcare depends on the generous support of the community it serves. To make a gift to celebrate the excellent care you or a loved one has received, please visit Beebe Medical Foundation at beebemedicalfoundation.org or call 302-644-2900. Want to share your story? Contact Amanda Neal at [email protected].
Caption (l-r): Kenneth Karpinski, Kathryn Skibinski, PA (Millsboro), Debra Karpinski
---