Protack: Thankful for the Gift of Healing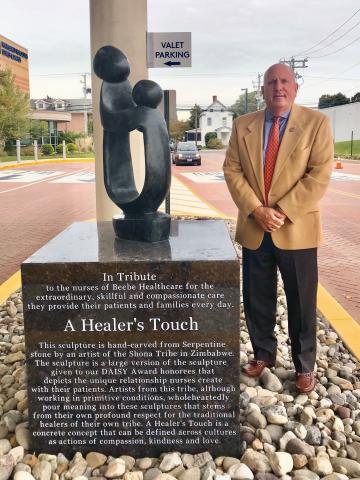 At the main entrance of Beebe Healthcare's Margaret H. Rollins Lewes Campus stands a beautiful hand-carved serpentine stone statue by an artist of the Shona Tribe in Zimbabwe. The sculpture is a larger version of the one given to our Daisy Award honorees that depicts the unique relationship nurses create with their patients. The sculpture is entitled "A Healer's Touch" reflecting compassion, kindness and love across all cultures. Through the generosity of donors to the Beebe Medical Foundation, this statue is in tribute to all the nurses of Beebe Healthcare for the extraordinary, skillful and compassionate care they provide their patients and families every day.
Since the onset of COVID-19 more than 20 months ago, our healthcare team has been fighting a battle. There was no easy playbook that could easily be taken off a shelf and followed. I have personally seen all our team members throughout Sussex County rely on their professional training and innate commitment to care for and bring healing to those who are entrusted to their care. They have been courageous, even at times when they were personally afraid. They have been present for long hours and days with their patients and their families bringing the gift of healing and excellent care.
As we gather with our families and loved ones around the Thanksgiving table this year, I would encourage you to give thanks for our healthcare heroes; all of them! And I would even like to suggest that you take the time during this season of giving thanks to personally thank a healthcare hero with a call, a card, a hug, a smile or a simple thank you! You might also consider making a donation to the Beebe Medical Foundation in honor of them, the excellent care they provide and their courageous service.
As many in our community have enjoyed getting back to their lives, our healthcare teams are still on the front line. I like to remind them that they are "still our heroes" even after almost two years! Now more than ever, the power of gratitude can help heal our healthcare workers who are weary and emotionally exhausted from this pandemic. The power of gratitude can be contagious and can help transform the human spirit.
Now it is our turn to offer a healing touch and gesture of gratitude for what our healthcare heroes have done for us and our community. We need to help them rekindle that flame of healing in their hearts so they can have the courage and fortitude to say "yes" each day to care for us at our most difficult moments. The next time you enter our Lewes Campus and see the "Healer's Touch" statue, let it serve as a gentle reminder to give thanks to a healer not just on Thanksgiving Day, but every day.
I am grateful for the support of all our donors who give so much to make the healing profession at Beebe Healthcare grow even stronger! If you would like to learn more about the supporting our Beebe Healthcare Heroes, please visit beebemedicalfoundation.org or call 302-644-2900.
I wish you and all your loved ones a Happy Thanksgiving!
Thomas J. Protack, President of Beebe Medical Foundation
As a community-based, not-for-profit healthcare system, Beebe Healthcare depends on the generous support of the community it serves. To make a gift to celebrate the excellent care you or a loved one has received, visit Beebe Medical Foundation at beebemedicalfoundation.org or call 302-644-2900. Want to share your story? Contact Amanda Neal at [email protected].
---