Beebe Medical Group: Planning for the Future in the South Coastal Region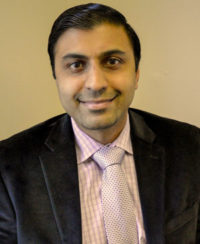 Bobby Gulab, MD, Board Certified Internal Medicine physician and newly named Senior Vice President and Chief Medical Officer for Beebe Medical Group, Beebe's employed physician group, is working with his team and Beebe's leadership to plan for the future.
Beebe Medical Group (BMG) currently employs over 150 medical providers and operates in over 40 locations throughout Sussex County. BMG offers a wide variety of medical specialties including primary care, medical and surgical specialties, women's services and our fast-growing walk-in care centers.
Much of the growth is happening in the South Coastal region – the area surrounding Bethany Beach, Millville, and Ocean View. It is because of this growth that BMG is undergoing a renovation project at the Walk-In Care center located on Route 26.
"The renovation project will provide significant building and equipment upgrades," Dr. Gulab said. "The upgrades to the building will offer patients a modern and efficient medical office to better serve the high volume of patients."
The project is expected to be complete and ready to serve patients on Monday, May 7.
"Thanks to the hard work and cooperation of our facilities and office team, the walk in is working regular hours throughout the renovation," Dr. Gulab said.
However, patients can expect slight delays during this time of renovation and are invited to utilize the Millsboro Walk-In Care on Route 113.
As Beebe looks to expand its services in the Millville area with the plans to build a new South Coastal Health Campus on Route 17, south of Route 26, BMG is also looking to increase the number of providers in the area.
"We are planning for expanded services in Millville," Dr. Gulab said. "We will have additional primary care providers join Dr. Karen McGibbon in her Millville office and there are also plans to create office availability for other medical and surgical specialties in Millville as well."
Currently, Beebe Vascular physicians rotate through the primary care office on Route 26, seeing their patients on specific days. The vascular providers are spending time at other BMG locations in Millsboro, Georgetown, and Milford, to serve patients closer to where they live. BMG hopes to build on the vascular success and add more specialty providers to this type of rotation.
"As the needs of the community grow, Beebe plans to continue to expand to meet those needs," Dr. Gulab said. "It's a very exciting time and BMG is proud to be working with the healthcare system to provide the best care for our community."
---