Marisa Spudis, RN: Caring For Everyone
Image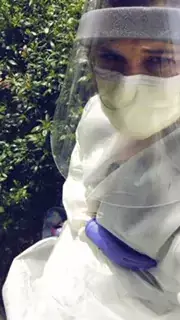 Marisa Spudis, RN, is a nurse with Beebe Home Care Services. During the early weeks of the COVID-19 pandemic, Marisa started caring for patients who had the virus, but who were receiving care at home.
"Our process changed and we needed to wear more protective gear," Marisa said, "But the way we care for our patients - with kindness and compassion - did not change. And, I think our patients really appreciate that."
Marisa admits prior to the pandemic she was a bit of a social butterfly. She enjoyed spending time with friends, taking her dogs on hikes, and visiting family. Once the pandemic hit, she knew she had to take more precautions. She began removing and washing her clothes immediately upon arriving home and instead of visiting with friends at gatherings, she instead turned to video chats to stay in touch.
"It's been difficult. I guess I didn't realize how much I needed that social atmosphere, but we are all making it work. And, because we are doing video chats, I think we are able to connect even better than we would in a crowded bar," she said. "It's important for me to take all these precautions because I want to stay safe and I want to keep my patients safe."
WATCH HER VIDEO -->
---