M&T Bank Presents $75,000 Check for Beebe Expansion Campaign
Nick Lambrow, Regional President of M & T Bank, presents a $75,000 expansion campaign gift to Tommy Cooper, Board Chairman of the Beebe Medical Foundation.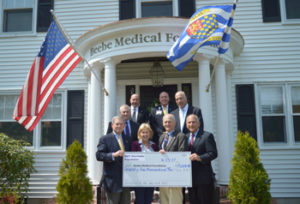 Cooper said, "I am honored on behalf of the Beebe Medical Foundation to accept this most generous and appreciated gift. M & T Bank, through its charitable foundation, has always been very supportive of Beebe fundraising events and campaigns. Our relationship with Nick, his staff, and M & T Bank, is highly valued by us."
Shown (left to right) are: in front, Tommy Cooper, Beebe Medical Foundation Board Chairman; Judy Aliquo, Beebe Medical Foundation President & CEO; Jeffrey M. Fried, FACHE, President & CEO of Beebe Healthcare; and Nick Lambrow, Regional President of M & T Bank.
In the middle are Dan Urgo, Vice President of Wilmington Trust Wealth Advisory and Mike Gast, Vice President of M & T Commercial Banking
In the back are Paul Pernice, Chief Financial Officer of Beebe Healthcare and Tom Protack, Vice President of Development for Beebe Medical Foundation.
Beebe Medical Foundation was established in 1989 with the sole mission to raise philanthropic support for Beebe Healthcare. The Foundation is located at 902 Savannah Road, Lewes, DE 19958. To learn more about how you can give, please contact the Beebe Medical Foundation at (302) 644-2900 or visit us online at https://www.beebemedicalfoundation.org.
Beebe Healthcare is a not-for-profit community healthcare system with a charitable mission to encourage healthy living, prevent illness, and restore optimal health for the people residing, working, or visiting in the communities we serve. It offers services throughout Southern Delaware for residents and visitors, including a 210-licensed-bed hospital, a cancer treatment center, and outpatient facilities providing walk-in care, lab, imaging, and physical rehabilitation services. For more information, please visit us online at www.beebehealthcare.org.
---