'Tis the Season for Giving
'Tis that special season of the year when we gather with our family and friends at holiday parties, events, and dinners to celebrate and give thanks for the many gifts in our lives.
Many people have special traditions that bring them closer to one another to show their love and gratitude. Every year, we also remember our loved ones who are not with us due to distance or their passing from this life.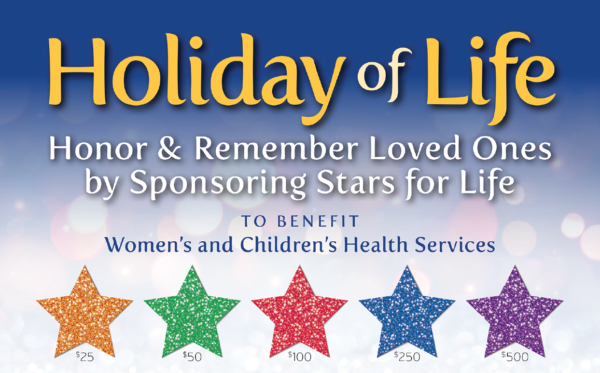 The Beebe Healthcare family has a special tradition this time of year called Holiday of Life. We invite the community to give a gift in honor of or in memory of loved ones. From your gift, a brilliant and shiny star will be placed upon beautiful trees inside our Medical Center in Lewes to benefit our Women's and Children's Department. There will be a Holiday of Life tree with stars of loved ones names near the waiting area for labor and delivery where anxious families await the arrival of a new member of their family. Another Holiday of Life tree will be on the main floor of the Medical Center near the Sunshine Café. To give a gift in honor or in memory of a loved one and have a star placed upon our trees, please go to beebemedicalfoundation.org/donate/holiday-of-life/ and make your gift today.
'Tis the season also when many people give a charitable gift for their traditional "end of year" giving before December 31. We hope you will consider making a gift to YOUR not-for-profit community healthcare system. The great team of doctors, nurses, and staff at Beebe pride themselves in treating and caring for everyone like family. Please consider making a gift today to support your healthcare family of heroes who are here for you 24 hours a day, 7 days a week! All gifts are tax-deductible and will directly go toward Beebe's mission to deliver excellent and compassionate care.
If you would like to make a gift of appreciated stocks, an IRA rollover, or a gift that would provide lifetime income to you (charitable gift annuity) or to discuss ways to remember Beebe in your estate planning, please call us today at (302) 644-2900.
On behalf of all of us at the Beebe Medical Foundation, thank you!
Happy Holidays and I wish you a Happy and Healthy New Year!
Thomas J. Protack
Vice President of Development
---