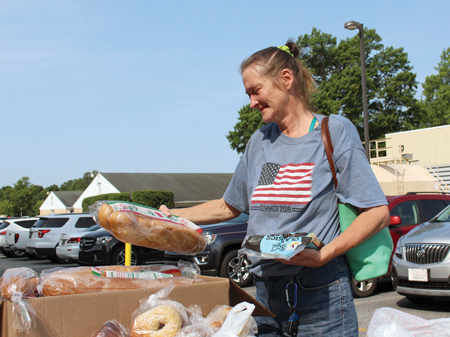 Debbie Bell, who is staying in Millsboro with a friend, receives food assistance through Beebe's Population Health Food Prescription Program. The program provides food boxes to those who don't have access to or cannot afford healthy food. In addition, the program focuses on food needs for those with diabetes, heart disease, or other conditions.
It was just this past January when Debbie, see left, thought she couldn't go forward anymore. "It was a hard winter for me. I was homeless, living in my car, and I just thought, 'Why bother?' I attempted to kill myself and ended up at Beebe," Debbie recalls. "Dr. Massey at Beebe told me there was help for me. She told me about the Food Prescription Program, and through that I met Catherine Murphy. Catherine (Beebe's former Community Health Coordinator) connected me with a local shelter so I had a warm place to sleep for the rest of the winter."
Debbie receives $15 per month in food stamps. However, it is far from enough to provide food for herself. "I am a diabetic, so I have to be careful about my blood sugar. Catherine helped me get a glucose monitor to keep better track of my health," Debbie says. "That and the Food Program really saved me. Being able to connect with healthy food here at Beebe each month allows me to focus on housing."
Like Debbie, Steve Zazanis, below, of the Long Neck area was worried about the future. His wife, who had been working part-time to cover food and bills, fell and injured her knee. She is getting a knee replacement, but until then she is unable to work.
"We were doing okay until she got injured. Then we started getting more and more behind. It was bad," Steve says. "When we were at Beebe for her follow-up, we learned about the Food Prescription Program, and it has certainly taken some of the pressure off of us. We still don't know how we will make it, but for now, we have food."
Making Connections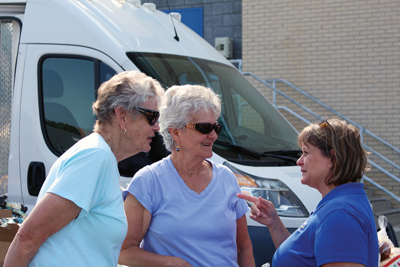 Beebe launched its Food Prescription Program a few years ago, and it continues to grow each year. On average, there are 30 to 37 households receiving food boxes each month.
Behind the scenes, Barbie Robets and the Population Health team work with volunteers and members of the Food Bank of Delaware to coordinate the monthly food program. Each month, the Food Bank truck brings boxes of healthy food and meets the Beebe team behind the hospital. They are joined by volunteers from Epworth United Methodist Church and Seaside Jewish Community, which have partnered to provide food to those in need.
"At Epworth, we have a Food Rescue, which brings in food that is close to expiration from restaurants and supermarkets. We pick the best items, and add it to food boxes for community members," says StephaniE Manos, below center, who started the partnership between Beebe and Seaside with her husband Reber. "When Catherine came and talked to me about the program Beebe was doing, it seemed like a natural fit for what we were already doing. Plus, many of us had been wanting to expand further into the community."
The volunteers help pack the food and then drive it to members of the Food Prescription Program who are unable to make it to the hospital. "Many of the people we deliver to are older or don't have transportation," says Carol Lewis, upper right. "We want to help out where we can because access to nutritious food is so important, especially when you get out of the hospital."
Her wife, Carol Woodcock, agreed. "We've made a lot of connections. We enjoy delivering the food, and then we get to chat with the people. It helps us learn about them – make that human connection – and then we also learn about what other needs they might have, and we can work to help connect them with resources."
Carol has a personal story as to why she volunteers as well. "When I was a single mother, I utilized the food stamp program. I remember just being so glad to have food. I was working, but it wasn't enough," she says. "Programs like this really help people."
Communing Around the Table
Studies have shown how important food and community are for humans. It's important for children to experience regular family meals to give them a sense of stability and to open the doors for communication. It's important for adults to commune around a meal to provide that human connection and to ward off feelings of isolation.
"Everyone benefits when you gather around a table to share a meal," says Debra Dobies, RD, LDN, registered dietitian with Beebe's Ornish Lifestyle Medicine program. "One of the pillars of Dr. Ornish's research, besides healthy food and exercise, is the importance of social connections and group support. His program has been scientifically proven to prevent and even reverse heart disease and the social aspects of gathering around a healthy meal are a big part of why the program is successful."
Providing resources to the community is also a big part of Beebe's charitable mission, says Kim Blanch, community services manager with Beebe Population Health.
"If a person has to decide between putting food on the table or purchasing their medications, it can cause them stress and opens the door for health challenges," Kim says. "We are taking a step toward helping them ease
one part of their lives so that, in the end, they can live a healthier life."
"Nutrition is such a key need in our life," she added, "physically because of building a healthy body, but also mentally because you need food for a healthy mind and a healthy outlook on living."
Human Connection Promotes Healing
Lorraine Messitt had chronic atrial fibrillation for years. When she moved to Lewes and learned that Beebe was the only provider of Ornish Lifestyle Medicine in Delaware, she knew she wanted to learn more.
She became a participant in the program, which teaches about the four pillars of a healthy heart: healthy nutrition, exercise, less stress, and group support. She graduated from the program in 2015 and volunteered at Ornish for three years.
She and her husband, Mike, who also had a heart event and graduated from the Ornish program, continue to follow the program today.
Because of their great experience, they are proud supporters of Beebe.
"The way we live now embraces love and support, as well as a vegetarian, low-fat diet, and exercise, the main ingredients that Ornish teaches for a healthy life," Lorraine says. "We keep on each other and support each other to stay healthy. Whenever I meet people who are concerned about their health, I offer them the Ornish book and tell them they can call me anytime."
Dr. Dean Ornish and his wife, Anne, recently released an updated version of Undo It! How Simple Lifestyle Changes Can Reverse Most Chronic Diseases.
"We meet regularly with the groups we were with in Ornish. It's amazing to see how everyone has grown through the process. Having that group to support us is very important," Lorraine says. "We are so fortunate to have the Ornish program right here in Sussex County. It's made such a difference in our lives!"
---