The players are real Beebe patients and doctors. Read as they share their experiences with the Beebe team and follow them on their journey to create a health network. (Click gameboard to enlarge.)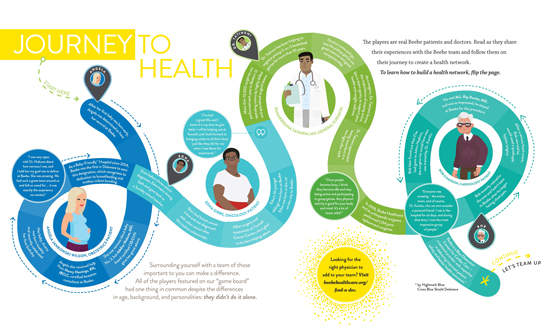 Learn how to build a health network
1

Develop Your Health Network:
Most people do not need to look far – Sussex County offers a wealth of resources and opportunities for those looking to create a health network. Each activity, whether it be with a walking buddy or cycling group, is a strand of the web that only makes your network stronger, says Kim Blanch, RN, Community Services Manager, Beebe Population Health, who is a long-time holistic wellness practitioner.
Whatever you choose, movement and companionship is as much a part of winning wellness as is the food you eat. "Family, neighbors, friends, pets, and even acquaintances – all of these have the opportunity
to nourish our bodies and minds," Kim says.
2 Be Ready to Commit: "You train to win a game," Kim says. "So here, you have to find out what works best for you. What are your strengths? What are the foods that are most supportive to your health? Talk to your doctor. Find the movement that suits your activity level. And most importantly, find people who are supportive of your wellness goals."
Kim suggests trying a life management tool, like an app, device, or journal, to help sketch out ways to focus daily on your health. Or, perhaps you are best motivated by working out with others – the buddy system is a great way to stay accountable.
3 Be Open to New Opportunities:
Healthcare is complex, but by building your health network, you can find others to bounce ideas off of, work out with, and socialize with. And, many groups bring in expert speakers to help you stay on track. Kim and her team at Beebe work with the state's Division of Public Health to present free 6-week healthy living workshops. The groups are kept small to allow for personalization, but also aim to create that sense of community. Visit
EventBrite to view upcoming Beebe classes
.
The workshops have been shown to help people better understand their personal health and better manage their goals. "Participants work together to plan how they will manage a condition, and then set wellness goals. When an issue comes up, that backbone of support will help them stay on track," Kim said.
4 Talk to your doctor: Awareness and education is key. Know what it means to have high blood pressure or cholesterol. "By staying informed of your health, you are creating opportunities to improve and make choices that are health positive," Kim says.