Beebe Healthcare's NICHE team works to improve care of geriatric patients
Beebe Healthcare's NICHE team works to improve care of geriatric patients
Beebe Healthcare has been a NICHE (Nurses Improving Care for Healthsystem Elders) designated hospital since 2011. The medical-surgical (3MS) team initiated this project and has consistently been working to implement evidence-based geriatric nursing protocols and interventions to ensure attention to the special needs of geriatric patients over the age of 65.
This year the NICHE team, along with nursing informatics, developed and implemented "The Geriatric Specific Needs Plan of Care," in Cerner. This IPOC provides interventions for the nurse to use to help prevent geriatric syndromes such as, delirium, skin breakdown, incontinence and functional decline.
In April, our NICHE team presented a poster at the National NICHE Conference, in Orlando, Florida. Our poster "Development of an Electronic Plan of Care to prevent Geriatric Syndromes" displayed the Plan of Care, as well as our post implementation data: Increased staff awareness of NICHE goals; improved communication between the nurse/nursing assistant care team; and increased patient satisfaction.
This is the second year the 3MS team has presented its work at the NICHE National Conference. In 2014, the team submitted its abstract and data to the NICHE organization and was selected to present its work on their journey implementing NICHE at Beebe during the annual conference in San Diego.
3MS at Beebe currently has 12 Geriatric Resource Nurses and four Geriatric Patient Care Associates. The team meets monthly to make plans and review case studies. The GRNs are required to consistently continue their education in the NICHE program to stay current with best practice. Team members then act as peer consultants and educators to staff, patients, and families and work to ensure best practice concepts are embedded in our unit culture. The team is working to expand the GRN program in the Emergency Department and beginning implementation in the Orthopaedic Department.
"The entire 3MS team strives daily to provide special attention to the geriatric populations needs, and per its Press Ganey patient satisfaction report, over the past 12 months, 3MS ranks at the 97th percentile in 'attention to special/personal needs of the population age 65 and older,'" said Margaret Porter, 3MS and NICHE Nurse Manager, Beebe Healthcare.
Beebe Healthcare is a not-for-profit community healthcare system with a charitable mission to encourage healthy living, prevent illness, and restore optimal health for the people residing, working, or visiting in the communities we serve. It offers services throughout Southern Delaware for residents and visitors, including a 210-licensed-bed hospital, a cancer center, and outpatient facilities providing walk-in care, lab, imaging, and physical rehab services. For more information, please visit us online at www.beebehealthcare.org.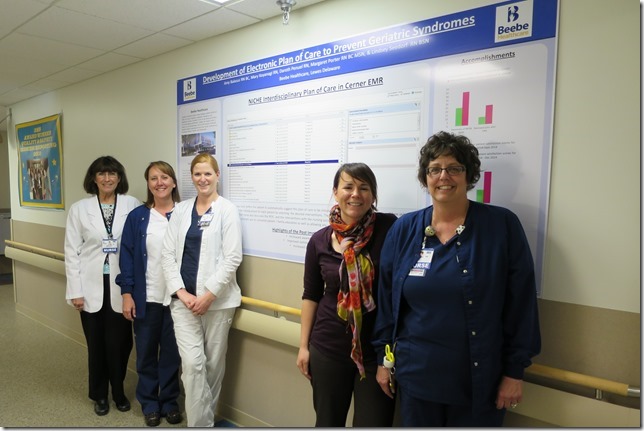 Image Caption: Shown (left to right) are nurses Margaret Porter, Amy Balasus, Dareth Penuel, Lindsey Seedorf, and Mary Koyanagi.
---