Community Mobile Health Clinic Arrives at Beebe
---
Beebe Healthcare is hitting the road and taking care to the people of Sussex County with the addition of a new 36-foot Community Mobile Health Clinic. The mobile clinic arrived Wednesday, Oct. 26 and will be operational later this year.
"The accessibility of this community-focused Mobile Health Clinic enables Beebe Healthcare to deliver superior access to care however, wherever, and whenever patients need it, which is one of our strategic priorities," said David A. Tam, MD, MBA, CPHE, FACHE, President & CEO, Beebe Healthcare. "We are excited to introduce another way to fill the needs of the community with the highest quality care throughout Sussex County."
The Mobile Health Clinic will be operated by Beebe's Population Health and Community Outreach departments in partnership with Beebe Behavioral Health. Population Health has been a community staple, providing multiple public health services to Sussex County for many years such as free flu clinics, screenings, and with many other programs. With a focus on addressing both complex behavioral and physical health needs, as well as social needs of patients, this mobile clinic will enable specialized team members to reach underserved populations, conduct more free screenings, share information, and connect patients to further needed resources.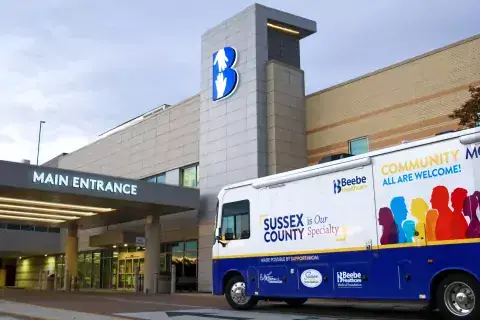 "Seeing patients in their communities allows us to reach people not served by the traditional healthcare system," said Bill Chasanov, DO, Chief Population Health Officer. "It reduces barriers to care, connects patients with additional care, and helps build trusting relationships within the community."
An emphasis of the Mobile Health Clinic will focus on addiction medicine and behavioral health services. As part of Beebe's five-year strategic plan, the system is focused on adding more access to services. The Margaret H. Rollins Lewes Campus continues to grow its team to care for patients and connect them with resources. Beebe Medical Group has been focused on expanding access in this area, too, with the opening of Beebe Behavioral Health in Lewes led by psychiatrist Leonard Lev, MD. The mobile clinic's dedicated multidisciplinary team will be able to offer these services to patients and communities literally where they are, rather than having to come to a medical office or emergency department.
"Beebe is bringing care to the community and the community to care," said Kim Blanch, RN, Director of Community Outreach. "We are so thankful for the support of Beebe leadership and our partners who have made this Mobile Health Clinic a reality."
Many layers of philanthropy have made this Community Mobile Health Clinic and its programs and services possible. In August 2021, the Delaware Division of Substance Abuse and Mental Health (DSAMH) awarded the Beebe Medical Foundation, on behalf of Beebe Healthcare, a State Opioid Response grant to expand its treatment capacity to engage and serve high-risk populations. The $550,000 funding enabled Beebe to purchase this first mobile unit. In April 2022, the Carl M. Freeman Foundation awarded a three-year matching grant of $370,000 in support of this mobile health initiative. Many individual donors have graciously help support the project, too.
---