Additional Beebe surgeons are currently training on the da Vinci Xi Surgical System to offer robotically assisted specialty procedures in the future.
Gynecologic surgeons Katrin Arnolds, MD, FACOG, and Cathleen Doane-Wilson, MD, will both be performing minimally invasive robotically assisted surgeries in late 2018. Robotically assisted gynecologic surgeries to be offered include:
Hysterectomy
Salpingectomy
Oophorectomy
Salpingo-oophorectomy
Ovarian cystectomy
Myomectomy
"The program will continue to expand as we train surgeons, surgical teams, and recruit new surgeons to bring a wide variety of robotically assisted surgical procedures here for our community," said Dr. Wehberg. "Our plan is to train the next generation of surgical teams so we can provide the best care for the next generation of our patients."
Find out more about Beebe's Center for Robotic Surgery: www.beebehealthcare.org/robotic-surgery.
Meet Dr. Arnolds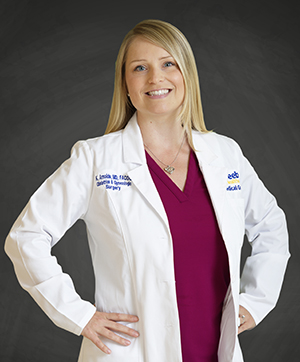 Q: What experience did you have with robotically assisted surgery prior to the current training you are completing at Beebe?
Dr. Arnolds: I started assisting in robotic surgeries during my residency at the University of Miami (for four years 2010-2014). In 2014, during my fellowship, I became a da Vinci console surgeon at the Cleveland Clinic after going through the vigorous training required to become certified.
Q: What are the benefits of robotically assisted gynecologic surgery?
Dr. Arnolds: Robotically assisted laparoscopy is extremely precise and elegant, the surgical platform eliminates tremor and the degree of motion achieved is higher (540 degrees), compared to the human hand and conventional, or 'straight sticks,' laparoscopy.
In addition, the tips of the robotic instruments are 'wristed' which allows for finer and more detailed dissection which allows for additional motion, which is only possible with this technology.
Operating with the da Vinci platform enhances a surgeon's touch and eliminates unnecessary moves thus there is less collateral tissue trauma/damage. Incisions are small and most of my patients are able to go home the same day after surgery. In addition, patients are pleased with the cosmetic results of a robotically assisted procedure.
Q: What patients would qualify for robotic surgery?
Dr. Arnolds: Any patient who needs gynecologic surgery would qualify for robotically assisted surgery. I will be performing robotically assisted surgeries such as hysterectomy, salpino-oophorectomy, ovarian cystectomy and myomectomy (removal of fibroids).