Tunnell Cancer Center is a place of giving and of hope — a place where our physicians, nurses, and staff are supported in their efforts to care for our patients by the patients themselves, their friends, their families, their caregivers, and those in the community who support us for no other reason than because they feel that it is the right thing to do.
Donate to the Tunnell Cancer Center today through Beebe Medical Foundation.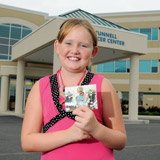 Ten-year-old Samantha Franklin, of Lewes, collects contributions to the Tunnell Cancer Center in memory of her aunt and uncle, who were treated at the cancer center.
There are the organized formal teams of supporters such as the Beebe volunteers who share their kindness with patients each day and the Beebe Auxiliary members who work to raise money that helps us care for our patients. There are the many benevolent individual donors who have made a difference in the technologies that we provide to our Medical Staff and the services we provide to our patients. Then there are the people in the community who bring gifts for our patients or who play the piano in the waiting room. There are the women in the community who knit blankets for our chemotherapy patients and the girl scouts who have donated cookies.
The list is endless. Tunnell Cancer Center is a special place where our staff is a team working together with our patients and community members who have become an integral part of that team. We at Tunnell Cancer Center wish to thank all of you who have made this center the special place that it has become.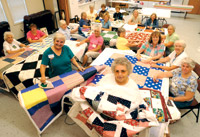 The Faith, Hope, Love Quilters, of St. Matthew's By-the-Sea United Methodist Church, in Fenwick, meet weekly to sew colorful and comforting quilts for Tunnell Cancer Center patients. They have made and donated 6,000 quilts.
Those who would like to make donations to Tunnell Cancer Center should send them to the Beebe Medical Foundation. Tunnell Cancer Center has two funds. The General Fund is used for capital spending on equipment, building projects, and other projects to improve the quality of care. The Cancer Patient Special Needs Fund assists individual patients who have limited financial resources and need help in covering emergent expenses such as prescriptions or copays for medications, medical supplies (e.g., wigs, mastectomy prosthesis), nutrition, essential living expenses, and transportation. There also are other ways to give and ways in which the foundation can recognize its donors.
Click here to donate to the Tunnell Cancer Center today through Beebe Medical Foundation. For more information or to donate today, contact the Beebe Medical Foundation, at (302) 644-2900.