Undergraduate Medical Education
Letter from the Medical Director for Undergraduate Medical Education, Dr. Michael A. Kalil, Jr.: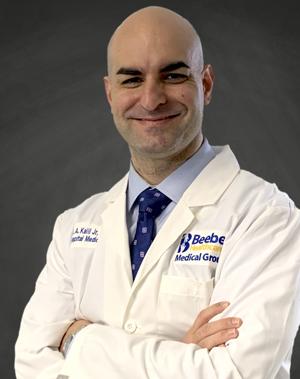 We are excited to expand medical education at Beebe Healthcare! Located in Lewes, DE in Sussex County, medical students will have an outstanding opportunity to experience the friendly atmosphere of a rural community hospital, committed to comprehensive patient care.

All students get full access to our hospitals – including libraries and classrooms. Students will also be granted the opportunity to utilize education resources at the Margaret H. Rollins School of Nursing, including virtual patient simulation. Students will use Cerner electronic medical record and Dragon dictation.

Currently, our undergraduate medical education program for MD/DO students offers rotations in Family Medicine, General Surgery, Obstetrics and Gynecology, with plans to expand to additional specialties.

While committed to mentoring the physicians of the future, students are encouraged to explore the community of Lewes and other area communities to take advantage of numerous outdoor activities, restaurants, shopping, beaches, and venues.

It would be our pleasure to welcome you to the Beebe Healthcare family!

Michael A. Kalil Jr., D.O.
Medical Director for Undergraduate Medical Education
---
Opportunities
---
Clinical Rotations - Medical Students (DO, MD)
Beebe's Undergraduate Medical Education program allows medical students such as those on the path to attaining an MD, DO degree or certification to rotate with our medical staff and faculty.
Beebe offers the following rotations:
Family Medicine: The clinical rotation in Family Medicine will take place at one of our many primary care outpatient offices.
General Surgery: During the Gen Surg rotation, students will work directly with the surgeons in both the outpatient, inpatient, and OR settings. Students will also have the opportunity to interact with other sub-specialty surgeons such as Vascular, Orthopedic, and Urology.
OB/GYN: Students on the OB/GYN rotation will also have the opportunity to work both inpatient and outpatient. Students will have the opportunity to learn multiple aspects of women's health, including experience with laboring mothers.
How to Schedule Rotations: All rotations must be requested via CastleBranch. Please contact studenteducation@beebehealthcare.org for more information on these opportunities.
---
UME Faculty - Coming Soon